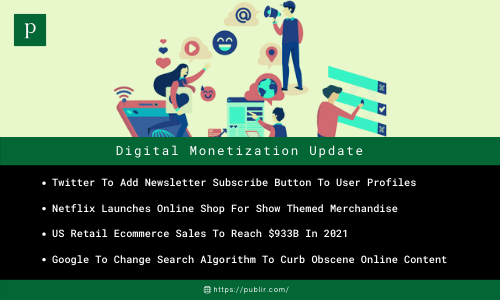 1. Twitter To Add Newsletter Subscribe Button To User Profiles (Mashable)
In the coming few weeks, Twitter will be adding a newsletter subscription option to continue its user profile. The aim is to assist newsletter authors to use their existing Twitter supporters to increase their membership. In addition, the company said that anyone with a Revue account can use the "Subscribe" button.
2. Netflix Launches Online Shop For Show Themed Merchandise (Variety)
Netflix launched Netflix.shop, a site that goes live on Thursday. Unlike some of its competitors, including Hulu and HBO Max, Netflix does not have ads, relying on the monthly fees paid by its 200+ million subscribers around the world. That's where Netflix.shop comes in.
3. US Retail Ecommerce Sales To Reach $933B In 2021 (eMarketer)
Following a strong Q1 fueled by government stimulus, the US retail ecommerce sales are expected to grow 17.9% this year (against previous predictions of 13.7% to reach $933.30 billion). This pushes ecommerce's share of total US retail sales to 15.3%, up from 14.0% last year. E-Commerce is now on track to surpass 20% of total retail by 2024.
4. Google To Change Search Algorithm To Curb Obscene Online Content (NYT)
Google plans to change its search algorithm to prevent scandalous websites that make money by posting obscene, nude, and objectionable content and images without the victim's consent. Google's new concept called "known victims" is also meant to respond to the victim's requests and to automatically suppress such content.
5. Amazon Faces GDPR Fine Risk Of $425M For Privacy Law Violation (WSJ)
European Union privacy regulator and the data-protection commission, CNPD is proposing over $425 million as penalty on Amazon, stating that Amazon's collection and use of personal information violated the GDPR. The proposed fine is equal to roughly 2% of Amazon's reported net income of $21.3 billion for 2020, and 0.1% of its $386 billion in sales.
6. Audiomack Strategies Convinced 64% Of Users For ATT Ad Tracking (AdExchange)
Audiomack, a free youth-focused music streaming service with 5 million daily active users across its app and mobile web experience could convince 64% of its users for tracking their IP addresses via Apple's ATT. It explained to the audience how ad-supported, free music apps generate revenue for creators, apart from providing free app services for users.
7. UK Competition Watchdog Secures Google's Commitment On Third-Party Cookies (Reuters)
Britain's Competition and Markets Authority (CMA) said that it had secured commitments from Google about its proposal to remove third-party cookies from its Chrome browser. These commitments were a result of action CMA launched against Google in January following concerns that its proposals could restrict competition in digital advertising.