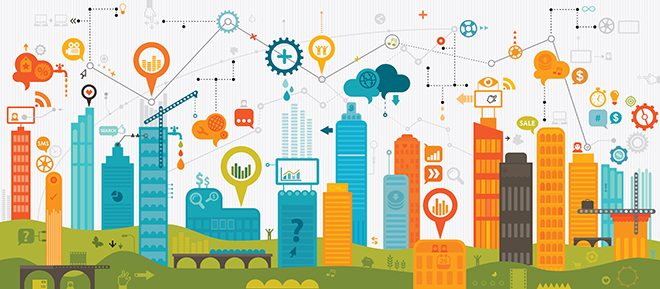 You know the value of technology in your business, but have you fully integrated into the digital world? Have you undergone the digital transformation that's necessary to exist and thrive in the 21st century?
What is Digital Transformation All About?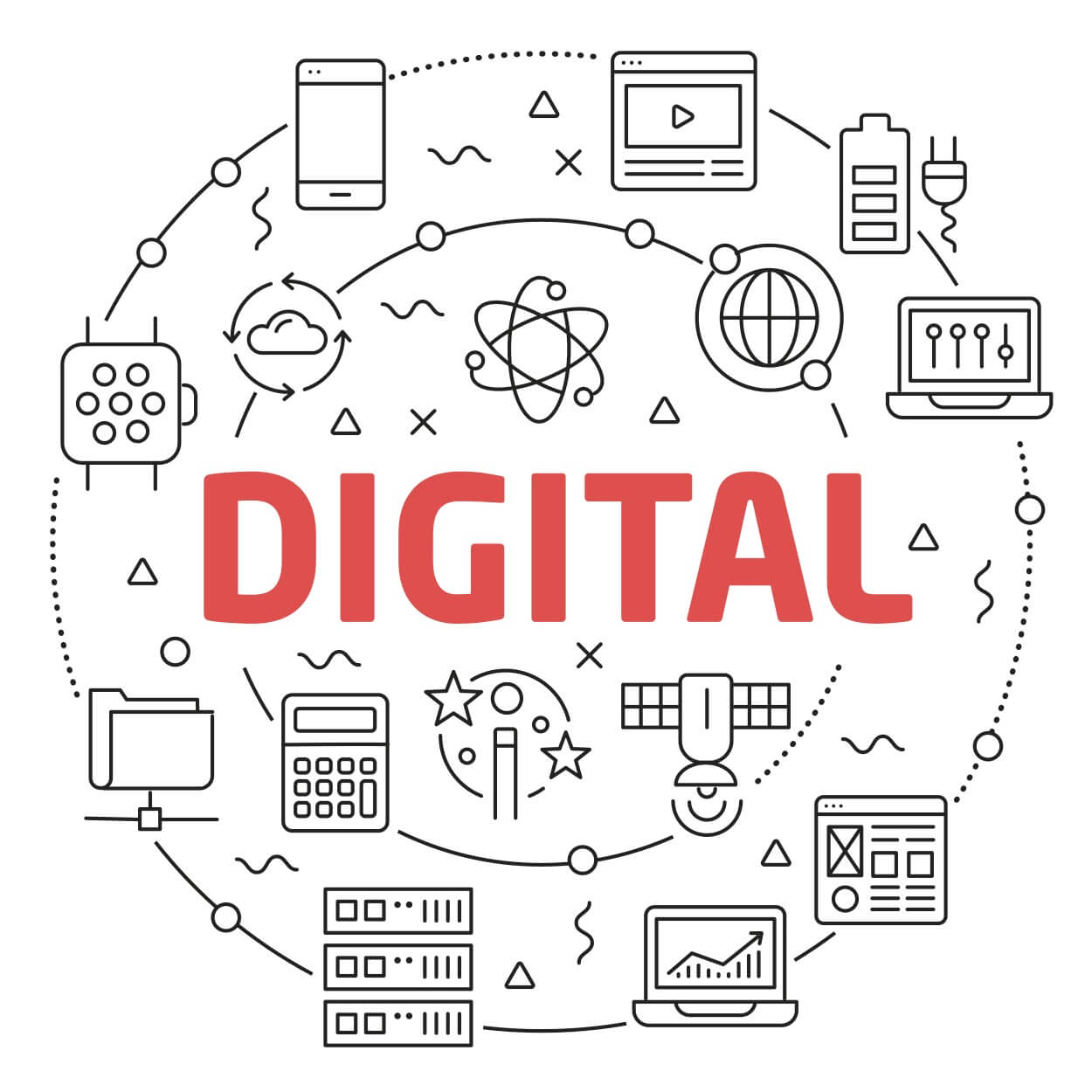 Digital transformation is the integration of digital technology into all areas of a business, radically transforming the way you operate and deliver value to customers. It is also a cultural change that ensures that organizations are always challenging the current conditions while simultaneously experimenting with new ideas and getting comfortable with breaking down and rebuilding business structures.
In essence, digital transformation requires becoming comfortable with change. Change is to be expected; being comfortable with change requires some effort.
Digital transformation is a process that applies digital technologies to change the business's existing practices and services; creating new practices to meet the evolving market and customer expectations. It's a complete overhauling of the way businesses are managed and operated, and how value is delivered to customers.
Deloitte defines "digital transformation" as becoming a digital enterprise. Here organizations use technology to continuously evolve all aspects of their business models. It is an ever-moving process with no clear boundaries, where the enterprise analyzes the changing customer needs and applies technology to improve the end-user experiences, including customers and employees.
Is Digital Transformation Imperative for Companies?
Digital transformation is imperative for companies to remain competitive in their respective fields. It allows the industries to evolve by improving the way they operate, helping them to meet the ever-changing market and user expectations. Digital transformation is not just making heavy investments in emerging technologies. According to a study by Bain & Company, only 8% of companies had achieved their business goals by sheer investments in digital technologies. What they're missing is the change in the organizational thought process and how the companies apply them to meet their business outcome. It's not just the digital footprint, but also the mindset that goes along with it.
Consider the reasons why companies like Amazon, Netflix, Uber Eats, and Uber are household names and their users are ready to discuss, recommend, and share information about them on social media. What prompted customers to act as their key partners in bringing in new business? These companies are successful in delivering personalized products and services to their customers efficiently and in a way that grabs their customers' (and prospective customers' attention).
These organizations have learned how to adapt quickly to supply chain disruptions, time to market pressures, and rapidly changing customer expectations are critical factors.
Data is the modern-day 'currency' and data monetization should be the end goal for every business. Companies must be able to harness this data judiciously to leverage insights and continue to grow.
Tech-savvy customers expect personalized services and look to companies to attain the agility to meet their needs, like customer engagement and experiences by reducing the friction between the business and the customer. Leaning in on digital assets and a digital approach to doing business is the way to make this happen.
It is an essential part of the business in attaining ROI and profitability.
Digital Transformation Framework
The digital transformation framework is the blueprint that guides an organization to travel through times of turbulence toward set business goals. Creating a framework to assist an organization succeeds in digital transformation keeps the organization on track and on deadline. Digital transformation may radically alter the status quo of a business and the framework helps organizations to look back to measure changes and mitigate challenges. There are established change management models for the business to gauge its impact.
An ideal digital transformation framework should include factors like:
Customer experience
Operational agility
Culture and leadership
Workforce enablement
Digital technology integration
Digital transformation must balance key management forces like strategy, structure, systems, skills, shared values, style, and staff. Just two of the vital factors in a digital transformation include training people, and adopting new technology, with companies maintaining a balance between them. If you focus too intently on a new tool (system), you might overlook the need for additional employee training (skills, staff).
How Do Companies Transform Digitally?
Organizations need to consider a variety of drivers when involved in a digital transformation. These include developing a digital twin, addressing privacy and culture, establishing augmented intelligence, and managing digital products.
Digital Twin
Virtual representation of a real-time project, systems, or entities is called a digital twin. It is an encapsulated software object or model that mirrors a unique physical object, process, or organization. Manufacturing (Ford Motors), Healthcare (GE- Health), Energy (GE Wind Farm), Smart Cities (Singapore & Shanghai), etc., have been using digital twin to change the way we create, use, and optimize physical spaces and processes. It aids organizations in the effective management of facilities and assets to improve customer experience.
Privacy Concerns
Both customers and employees insist on privacy and data safety, without which, it is difficult to win their loyalty and trust. There is no guarantee for data breaches and leaking sensitive data related to people and their financial activities in this digital age but ensuring data privacy is the first major step in the digital transformation process. There is a lot that organizations can do to mitigate potential risks.
Adapting Culture
While organizations seek to redefine the way they work to create, deliver, and capture value by investing in digital technologies, they need to develop a value system around digitizing and communicate it effectively to employees. With company values in place, organizations can hire and train employees to align with these values and expected behaviors.
Augmented Intelligence
Augmented Intelligence, a subsection of artificial intelligence, helps to enhance human intelligence digitally, collecting and presenting data in a way that allows people to augment their knowledge. Zara and Amazon are some of the examples that embraced this technology. Augmented reality can be used for showrooms and online purchases. It shows alternative outfits to the pieces delivered and entices customers to make repeat purchases.
Digital Product Management
Digital product management is shifting companies' focus from projects to products by designing products that enhance the customer experience which can be delivered through digital channels. Apple Watch, for example, monitors the health of the wearer.
How has the COVID-19 pandemic changed Digital Transformation?
4.7 million people were working remotely from home before the COVID-19 pandemic struck in March 2020, as per the US Census Bureau and the Bureau of Labor Statistics. This was up by 1% or 0.8 million from 2015. In contrast, by the end of 2020, 88% of the organizations all over the world encouraged their employees to work from home as the virus started to spread at exponential rates.
Companies that have invested in augmented intelligence, IoT, and cloud technologies made the best use of technology during this health emergency. Tools like Google Suite, Office 365, Box, and Slack played a critical role in enabling a swift move to work-from-home.
Digital transformation as a process has not only facilitated startups, enterprises, and multinational companies all over the world but also helped people to work, shop, play, entertain and be entertained online throughout the period worst hit by the COVID-19 pandemic. It reduced the persistent layers between the customers and companies to minimize the tension in this process. While the digitally matured companies like Amazon, Walmart, Netflix, and several others have quickly adapted to the emerging socio-economic and cultural shifts to meet their customer expectations, others made a beginning in this direction. The pandemic has taught the companies to balance between the employees' health and customer expectations.
What are the key trends in Digital Transformation in 2021?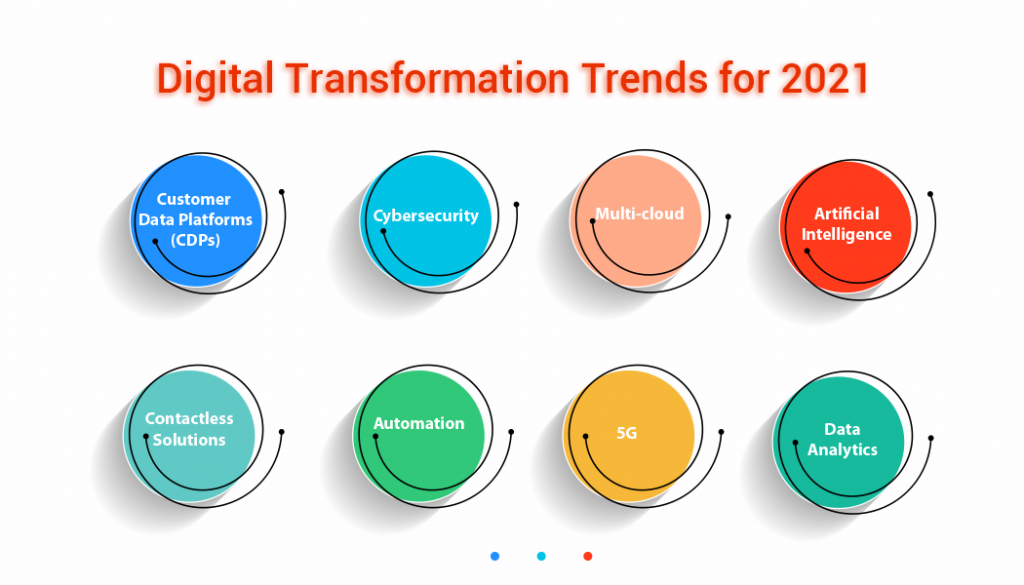 Customer Data Platforms (CDP)
Companies are producing massive data. Their ability to harness this data to gain insights into customer behavior is crucial when they have a wide range of product lines, marketing channels, and customers. CDP acts as a single source of customer information to create more personal and relatable marketing campaigns. An Oracle-sponsored study observed companies that use CDPs enjoy 2.5% more in customer lifetime value than those that don't.
Ensured Cybersecurity
Companies that focused heavily on digital infrastructure building without paying any attention to cybersecurity have faced severe blows. Research firm Gartner had predicted that by 2020 60% of digital businesses would suffer major service failures due to the inability of security teams to manage digital risk. The prediction came true as there were 445 million cyberattacks in 2020 and cybersecurity will be one of the key digital transformation trends for 2021.
Multi-cloud architecture
Innovations in cloud technologies helped companies to adopt multi-cloud architecture to distribute applications and workloads within an organization. Companies are adopting a multi-cloud strategy for reasons like resilience, data residency requirement, and disaster recovery. Organizations must learn ways for cloud management and automation solutions to manage their multiple cloud environments.
Democratization of AI
The democratizing of AI is making AI accessible to every organization and employees within an organization. AI-based tools can be used to identify patterns, make decisions, predict, learn, and improve. The perfect example of AI integration can be seen in health care. Tech enthusiasts believe that the application of AI in health care has revolutionized the industry. It is one of the most important digital transformation trends for 2021.
QR Codes and Digital payments
Scanning a QR code to order food and make digital payments without any human involvement in consumer transactions is an important trend for the year 2021. While the COVID-19 induced social distancing compelled online retailers, cafes, and restaurants to come up with solutions to promote digital transactions, 2021 will continue this process and expand it to people and businesses worldwide to access the digital economy.
Automation
Automation and digital transformation go hand-in-hand, and one doesn't exist without the other. Automated alerts for companies on due dates for software license renewal and project cycle will increase efficiency and delivery of projects on time. Hyperautomation will be a key technology trend in 2021, which is an integrated use of technologies like machine learning, robotic process automation, artificial intelligence, low code, and more. Businesses might also move toward cloud-centric automation solutions for better scalability and reduced cost of ownership.
5G
The adoption of 5G services will accelerate digital transformation in many ways; it opens up various opportunities like enhanced capabilities to deliver content, services, and interactions in unimaginable ways, with great speed. It also facilitates speedy and faster telecom services with lower latency and higher density. It is capable of redefining business models and operations by drastically improving services. Automated vehicles, IoT in smart city infrastructure, and traffic management, IoT in industrial automation are some of the best examples that demonstrate the abilities of 5G services.
Data Analytics
While data fuels modern-day business, it is important to apply analytics to extract useful information from the processed raw data to foster decision-making and organizational productivity. Data analytics find answers to complex problems by predicting consumer behavior, streamlining supply chain processes, optimizing sales pipelines, etc. By 2022, 90% of corporate strategies will explicitly mention information as a critical enterprise asset and analytics as an essential competency.
Conclusion
Digital transformation is not without challenges with constraints on budget, access to technology, and cultural cues in its way. Organizations need to be very strategic in selecting the right technology that suits their business. Instead of building the entire infrastructure, enterprises and startups are hiring these services out and building them from the bottom up. But the fact remains very clear that digital transformation is imperative for companies to survive in this digital age. To read more informative articles, visit our blog here!