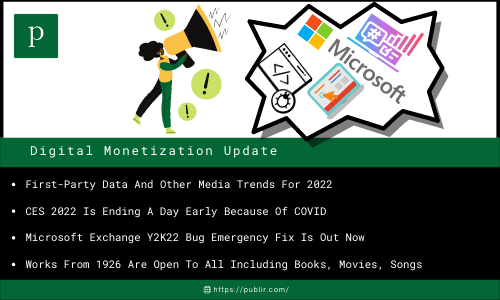 1. First-Party Data And Other Media Trends For 2022 (AdExchanger)
Platforms with dedicated opted-in audiences will be well positioned to monetize their first-party data sets in 2022 and beyond. Publishers that have been slow to transition to first-party data will be pressed to fulfil Google's newest deadline of the termination of third-party cookies in Chrome by the end of 2023.
2. CES 2022 Is Ending A Day Early Because Of COVID (TheVerge)
The Consumer Technology Association announced the last day of CES 2022 tech conference in Las Vegas has been cancelled, and the event will end on January 7th. In the context of an increase in COVID-19 diagnosis, the shortened timeline is "an additional safety measure." It is the world's largest tech conference, attracting over 10,000 people each year.
3. Microsoft Exchange Y2K22 Bug Emergency Fix Is Out Now (BleepingComputer)
Microsoft issued an emergency fix for a bug that prevents email delivery on on-premise Microsoft Exchange servers. The PowerShell script, 'Reset-ScanEngineVersion.ps1', will stop the Microsoft Filtering Management and Microsoft Exchange Transport services, remove previous AV engine files, download the new AV engine, and restart the services.
4. Works From 1926 Are Open To All Including Books, Movies, Songs (DUSL)
As copyrights expire, books, movies, and songs released in 1926, and an estimated 400,000 sound recordings published before 1923, enter the public domain in the US. Online archives like the Internet Archive, HathiTrust, and Google Books can make works available online to gain access to cultural resources that might otherwise be lost to history.
5. Study Shows Shoppers Are Perplexed By IVR (MediaPost)
According to a study by eGain, email marketers must consider this when driving customers to their company's interactive voice response (IVR) experience: 88% of respondents said an IVR they met was not intelligent, and 38% said it was dumb or somewhat so. 60% have tried to reach a call center representative regularly, and 26% have done so frequently.
6. Didi Revenue Falls As China's Regulatory Crackdown Hits Business (Reuters)
Didi Global, China's ride-hailing company, announced a 1.7 percent drop in third-quarter revenue, blaming a regulatory crackdown on its domestic operations. Following its New York Stock Exchange listing in June, Chinese authorities demanded that Didi remove its app from mobile app stores while the CAC reviewed its management of client data.
7. CrowdTangle Co-Founder Wants Social Network Transparency (NYT)
Brandon Silverman has been with Facebook since the company acquired his start-up, CrowdTangle. He no longer works at Facebook, but in the weeks after his departure, he has been working with a bipartisan group of US senators on legislation that would require the large social media platforms to provide transparency that pushed him out of Facebook.
8. Twitter Permanently Suspends Georgia GOP Rep.'s Account (CNN)
Twitter has banned Georgia GOP Rep. Marjorie Taylor Greene's account indefinitely. A Twitter spokeswoman said the account was "permanently suspended" for "repeated violations of our COVID-19 misinformation policy." She may still tweet through her official congressional account that has over 386,000 followers.