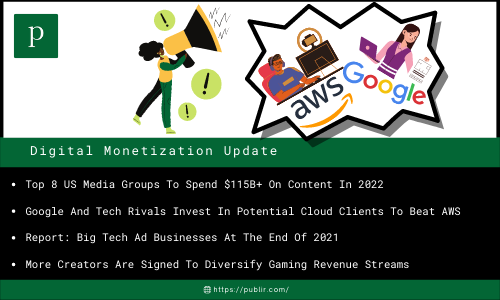 1. Top 8 US Media Groups To Spend $115B+ On Content In 2022 (IrishTimes)
Disney, Apple, Netflix, Comcast, ViacomCBS, Fox, WarnerMedia, and Amazon intend to spend more than $115 billion on new movies and TV series next year in order to compete in the video streaming market. The massive investment comes despite fears that following the pandemic-fueled boom, it would be more difficult to recruit new consumers in 2022.
2. Google And Tech Rivals Invest In Potential Cloud Clients To Beat AWS (WSJ)
In the struggle for cloud computing market dominance, Google and its rivals are using a new weapon, which is, large-scale investments in enterprises that agree to use their services. Google currently controls 6% of the cloud market, a 1% increase from the previous year, although it remains well behind Amazon's 41% and Microsoft's 20%.
3. Report: Big Tech Ad Businesses At The End Of 2021 (AdExchanger)
Alphabet, Meta, Amazon, Apple, and Microsoft, the US tech giants, are often clubbed together. But their ad platform companies have diverse traits, and each was impacted differently by 2021. CPMs across Google, Android, YouTube, the Play Store, Facebook, and Instagram soared as the next-best options when iPhone owners became more difficult to reach.
4. More Creators Are Signed To Diversify Gaming Revenue Streams (DigiDay)
Games and their fan bases are becoming vital sources of intellectual property and revenue in their own right, often fueling non-gaming media consumption. Esports organizations have seen a shift in gamers' behavior and have begun to sign more dedicated streamers and influencers in order to diversify the revenue streams and offer a wide range of fans.
5. Cyberattack On T-Mobile Reveals Customers Info And SIMs (TheVerge)
T-Mobile has been hit by yet another cyberattack, following a large data breach in August. The attackers gained access to a limited number of clients' accounts this time. Customers were either victims of a SIM switching attack (which might let someone overcome SMS-powered two-factor authentication), had personal plan information leaked, or both.
6. Instagram Copying TikTok May Be Harmful In The Future (MediaPost)
The fierce rivalry amongst popular social media apps has resulted in a blending effect. It will be interesting to see how much more consolidation Instagram can undertake without seeming identical to TikTok over the next year. While Instagram is a highly popular platform, its future moves toward TikTok are debatable in terms of its ability to stand out.
7. China To Tighten Copyright Protection In Livestreaming By 2025 (Reuters)
China's copyright authority said on Wednesday that the government will boost copyright protection for livestreaming, e-commerce, and sporting events by 2025. According to the National Copyright Administration's 14th Five-Year Plan for Copyright Work, copyright protection would be reinforced and improved in new industries and areas.