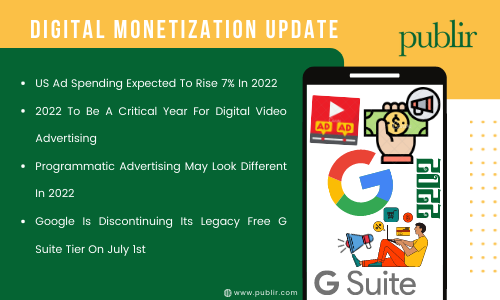 1. US Ad Spending Expected To Rise 7% In 2022 (MediaPost)
According to Cowen International's latest annual ad buyers' poll, overall ad spending in the US is expected to climb 7% in 2022, the highest year-over-year growth estimate in the survey's 10-year history. According to the survey, video and social channels will fuel an 18% year-over-year increase in the global digital ad industry to $519 billion.
2. 2022 To Be A Critical Year For Digital Video Advertising (AdAge)
Media consumption hit an all-time high last year, and the rise of streaming and CTV gave advertisers additional ways to contact their customers. The bar has been raised, and meeting the objectives of today's marketers requires size, incremental reach, flexibility, and transparency. In the next year, these solutions will be more critical than ever.
3. Programmatic Advertising May Look Different In 2022 (AdExchanger)
Even if the world had not reset due to a pandemic, programmatic advertising in 2022 would be substantially different than it was in any previous year. The world of programmatic advertising has never been more complex or challenging as it is now. At the same time, the possibility for improvement and growth has never been higher.
4. Google Is Discontinuing Its Legacy Free G Suite Tier On July 1st (Engadget)
As of July 1st, 2022, Google has declared that it would no longer offer the G Suite legacy free edition. Starting May 1st, the business wants to convert those users to paid accounts. Google claims that if consumers do not choose a subscription plan by the beginning of May, it will choose one for them based on their current consumption.
5. Instagram Starts Testing Subscription Service For US Creators (Variety)
Instagram has turned on a new option for creators to generate money, launching a subscriptions test in the US. Selected US authors can choose their own monthly pricing and have a "subscription" button added to their profile. Creators will be able to choose from eight different price points, ranging from 99 cents per month to $99.99 per month.
6. Meta's Oculus Headsets May Put Children's Privacy At Risk (MediaPost)
Meta's mobile companion app for its Oculus virtual reality headsets was the most downloaded app in the US on Christmas Day. According to Apptopia and Sensor Tower statistics, with over 2 million downloads since, the Oculus is becoming a popular gift, particularly for youngsters, but several cybersecurity experts are raising privacy concerns.
7. Microsoft To Buy Gaming Giant Activision Blizzard For $69B (Axios)
Microsoft will pay $68.7 billion in cash to buy video game giant Activision Blizzard. It is Microsoft's most expensive acquisition to date, surpassing the $26.2 billion purchase of LinkedIn in 2016. Given Microsoft's stature and the acquisition's scale, the agreement is likely to be scrutinized by regulators.
8. Google To Improve Spotty Enforcement Of Children's Ads Policy (Reuters)
After Reuters discovered ads for sex toys, booze, and high-risk investments in its search engine that should have been barred under its attempts to comply with UK rules, Google said it would immediately improve enforcement of its age-sensitive ad policy. Google is changing settings across its services in Europe and abroad for users under the age of 18.