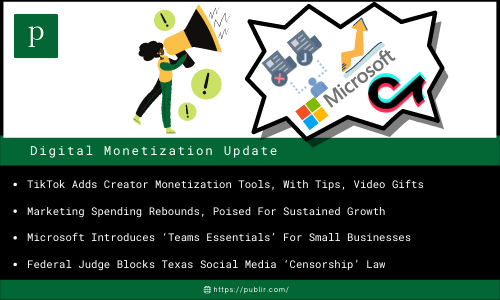 1. TikTok Adds Creator Monetization Tools, With Tips, Video Gifts (AdWeek)
TikTok's Creator Next allows eligible creators to unlock new and existing tools, allowing them to be rewarded for their work. Options for monetization include Tips and Video Gifts. TikTok tips allow users to monetarily show their appreciation to TikTok creators for their work, with the creators getting 100% of the tip amount.
2. Marketing Spending Rebounds, Poised For Sustained Growth (MediaPost)
A report as part of PQ Media's "Global Advertising & Marketing Spending Forecast" said ad and marketing spending is expected to grow in future, following mid-single-digit declines in 2020. The study revealed total marketing spending in the US will climb 8.7% to $539 billion this year, while global marketing spending will rise 7.2% to $1.376 trillion.
3. Microsoft Introduces 'Teams Essentials' For Small Businesses (TheVerge)
Microsoft Teams is having the first standalone version for small enterprises. Microsoft Teams Essentials will cost $4 per user every month and will give access to Teams' core meeting features without the normal Office software bundling that needs a more costly Microsoft 365 plan. This standalone edition elevates Teams to the level of a Zoom rival.
4. Federal Judge Blocks Texas Social Media 'Censorship' Law (TheVerge)
On the basis that it is likely to violate the First Amendment, a federal court has halted a Texas law that attempted to limit the authority of large social media platforms to censor content. An injunction filed by NetChoice and the CCIA was granted by a federal district court in Austin, putting the HB 20 statute on hold until the matter is resolved.
5. Amazon Struggling To Attract Publishers To Amazon Live (DigiDay)
Despite months of efforts to recruit publishers and the audiences they have amassed on other platforms, Amazon is still mostly reliant on an eclectic collection of reality TV stars and YouTubers to deliver live video content, more than two years after refocusing on its live-stream shopping product, Amazon Live.
6. Facebook Retreats From Crypto Ad Ban (CNBC)
Facebook stated on Wednesday that it will modify a long-standing policy that barred most cryptocurrency firms from running advertisements on its platform. The decision comes after the startup, now known as Meta, attempted and failed to develop a cryptocurrency that could be used to transmit money online to anybody in the globe using Facebook tools.
7. Streaming Services To Lose 150M Subscribers In 2022 (HollywoodReporter)
Deloitte announced its technology, media, and telecom projections for 2022, predicting that more than 150 million individuals will quit a paid streaming subscription in 2022, with a worldwide churn rate of 30%. The turnover rate in the United States is 38%.
8. HBO Follows Netflix Into Free Phone Games (TheStreamable)
HBO has released Insecure: The Come Up Game, a smartphone game that allows fans to further explore the universe of creator Issa Rae's HBO series "Insecure." The game – available on the Apple App Store – is HBO's first free gaming product and follows Netflix's foray into the field. HBO will be adding content and features throughout the following year.