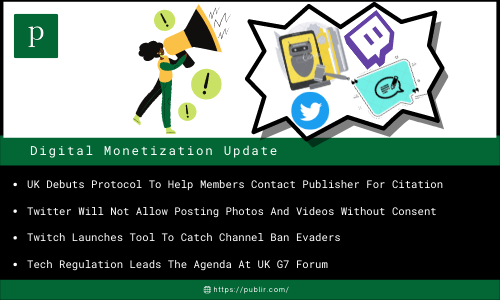 1. UK Debuts Protocol To Help Members Contact Publisher For Citation (DigiDay)
Publishers in the United Kingdom have banded together under the Association of Online Publishers (AOP) to support a unified method of citing sources. The protocol is based on an email system that allows people who have signed up to contact other publications who have not credited exclusive material they have created so that it may be updated.
2. Twitter Will Not Allow Posting Photos And Videos Without Consent (Engadget)
Users on Twitter are no longer allowed to share private images or videos of anyone without their consent. It warns that tweeting such images might infringe on someone's privacy and lead to physical damage. If a photo or video is reported as violating the rules, the media will be removed, and Twitter will act depending on its enforcement options.
3. Twitch Launches Tool To Catch Channel Ban Evaders (TheVerge)
Twitch is launching a new tool that employs machine learning to detect those who attempt to avoid bans. It is the company's latest innovation to tackle things like hate raids and trolls. Suspicious User Detection is a new tool that may identify individuals as "likely" or "possible" persons who have avoided bans from a streamer's channel.
4. Tech Regulation Leads The Agenda At UK G7 Forum (Reuters)
In a London summit, governments, tech executives, and politicians explored how to work together to keep the internet free and democratic while improving online safety. Minister for Technology and the Digital Economy Chris Philp said the Future Tech Forum was to create a more productive and resilient global economy with digital technology at its heart.
5. Cannes Lions Adds Creative B2B Award (AdAge)
The Cannes Lions International Festival of Creativity will introduce a new Creative B2B Lion, recognizing the increase of creativity in business-to-business marketing. The Creative B2B Lion will honor "game-changing creativity and effectiveness in work for products and services that are purchased by professionals on behalf of businesses".
6. Microsoft's 'Buy Now, Pay Later' Tool Draws Heavy Criticism (TheVerge)
Edge will get a "buy now, pay later" tool from Microsoft prompting customers to use the short-term finance provider Zip (formerly QuadPay) when making a purchase. Some users have complained about the added bloatware slowing down their surfing experience, while others are concerned about the possible financial consequences.
7. Streaming Sports TV Viewing Grows, Pay TV Subscribers Decline (MediaPost)
Although overall pay TV subscriber homes in the US are declining, regular sports watchers with a pay TV package are increasing. A recent poll conducted by Altman Solon and analyzed by MoffettNathanson Research said that there were 58 million sports TV viewing households in the third quarter of this year, up 2.6 million from the third quarter of 2019.
8. Twitch Now Works With SharePlay On iPhone And iPad (AppleInsider)
Twitch has implemented SharePlay features, allowing viewers to watch a Twitch stream or any video on demand as a group. On Tuesday, the firm announced the news on Twitter. SharePlay is compatible with iPhones running iOS 15.1 and iPads running iPadOS 15.1. The Twitch app for Apple TV currently does not support SharePlay.