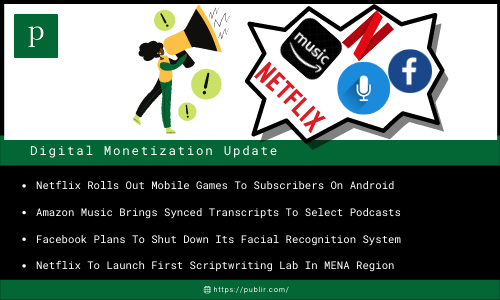 1. Netflix Rolls Out Mobile Games To Subscribers On Android (TechCrunch)
Starting this week, Netflix's first lineup of exclusive mobile games will be available to all Android users worldwide. The streaming service originally disclosed its ambitions to join the mobile gaming industry in July, describing games as "another new content category" for the company to offer its users in addition to movies and television.
2. Amazon Music Brings Synced Transcripts To Select Podcasts (TheVerge)
Amazon Music is now offering auto-generated, synchronized transcripts on select podcasts to the US customers. These transcripts will be accessible for recent episodes of select Amazon Originals and Wondery, a network owned by Amazon, in the current version of the Amazon Music app for iOS and Android. However, ads will not be transcribed.
3. Facebook Plans To Shut Down Its Facial Recognition System (NYT)
Facebook intends to shut down its decade-old facial recognition system, wiping the face scan data of over one billion users and effectively ending a feature that has sparked privacy concerns, government probes, a class-action lawsuit, and regulatory issues. A Facebook spokeswoman said that it will enact this procedure globally by December this year.
4. Netflix To Launch First Scriptwriting Lab In MENA Region (Variety)
Netflix has partnered with Kuwait-based production studio National Creative Industries Group to establish a writers' lab that will produce six series concepts from authors in Kuwait and Saudi Arabia. Netflix – already the region's leading streamer – is anticipated to boost its subscriptions from 3.4 million to 5.4 million in the next five years.
5. Microsoft To Bring Its Mixed Reality Platform Mesh For Team (TheVerge)
Mesh, a collaborative platform for virtual experiences, will be integrated directly into Microsoft Teams next year, putting Microsoft in the battle to establish a metaverse within Teams. It is part of a larger attempt to bring the company's mixed reality and HoloLens efforts together with video chats that anybody can join with animated avatars.
6. Zoom Is Testing To Show Ads For Free Users (CNET)
People who use Zoom's free basic service to video chat with relatives or coworkers may begin to see ads after their meeting has ended. When those using the free service join meetings held by another person using the basic service, they will see advertisements. The test is now taking place in "certain countries," however Zoom did not specify which ones.
7. Yahoo Pulls Out Of China, Citing 'Challenging' Environment (WSJ)
Yahoo announced its exit from China, citing an increasingly difficult commercial and regulatory environment. Following the closing of Microsoft Corp.'s LinkedIn social-networking site, Yahoo ceased to sell its services on November 1, becoming the second well-known US technology giant to shrink its China operations in less than a month.
8. Google To Transition Some Ad Campaign Types To Performance Max (MediaPost)
On Tuesday, Google announced the wide availability of "Performance Max," which allows marketers to specify a marketing objective and the conversion targets that support it. According to Google, this ad type will also be the next generation of "Smart Shopping" and "Local" campaigns, both of which will be upgraded to Performance Max next year.