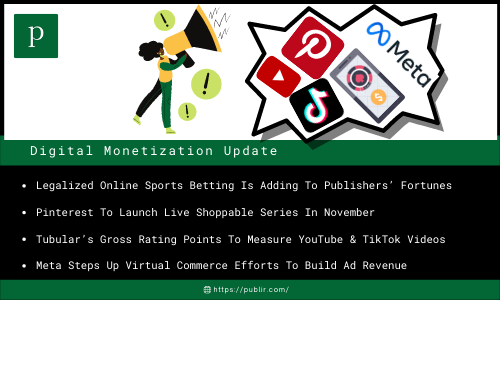 1. Legalized Online Sports Betting Is Adding To Publishers' Fortunes (DigiDay)
The US emerged as the single largest and lucrative market for sports betting with states legalizing online sports gambling. Betting companies are targeting bettors via sports media that dishes out exclusive branded content through blogs and newsletters in exchange for sponsorship deals, cash, stock, and affiliate commissions.
2. Pinterest To Launch Live Shoppable Series In November (TheVerge)
Pinterest aims to launch a shoppable live series with Pinterest TV, on November 8th. It will air episodes from Monday to Friday at 6 PM ET on iOS and Android, featuring topics ranging from fashion, beauty, home, food, and more. On Fridays, viewers can purchase exclusive products from different brands, as episodes turn into QVC-style shopping shows.
3. Tubular's Gross Rating Points To Measure YouTube & TikTok Videos (Forbes)
Tubular Labs announced that it will begin providing gross rating points for the biggest content creators on YouTube and Facebook in a bid to impose a measurement order on the chaotic world of video on the two social media platforms. The move will provide a consistent way for marketers to measure viewership and other metrics.
4. Meta Steps Up Virtual Commerce Efforts To Build Ad Revenue (TheInformation)
After rebranding as Meta, Facebook stepped up efforts to enhance ad revenue lost due to Apple's privacy policies. Apart from ad tech modifications, Meta has started efforts to attract merchants into its walled garden as a way of generating ad revenue, free of Apple's tracking restrictions, using an immersive virtual world.
5. Tech Industry & Legacy Media War Resulted In Facebook Staff Activism (NYT)
According to Jessica Lessin, the CEO and the founder of The Information, a digital tech media, the war between the tech industry and the US legacy media alone has resulted in Facebook staff activism. After rebranding Facebook as Meta, CEO Zukerberg interacted with only four media outlets, by excluding legacy publishers of the East coast.
6. Twitch To Launch Exclusive Streaming Services For Animal Lovers (TheVerge)
Twitch is planning to focus on streaming series providing Animals, Aquariums, and Zoos categories on the eve of Animal Week. It aims to bring a bunch of streams from zoos, conservation projects, and animal owners together for viewers to make it easier to find them. It features an exclusive wolf conservancy den and aquariums for viewers.
7. TikTok Now Available On Amazon Fire TV App In US And Canada (TechCrunch)
Amazon announced that a TikTok app is now available on Amazon Fire TV for users in the US and Canada and will be coming soon to Echo Show devices. Users can directly download TikTok from the Fire TV app store and browse TikTok's "following", "for you", and the discover page. Users can also use voice assistant Alexa to play the next video.
8. Google-NYK To Promote Inclusiveness In Digital Storytelling (AdWeek)
Google in association with The New York Times' creative studio T Brand is launching a campaign called "Picture Progress." Google has developed a Pixel 6 smartphone that uses machine learning to photograph a wide range of skin tones more accurately. Dubbed as Real Tone, this initiative is meant to promote inclusiveness in media representation.