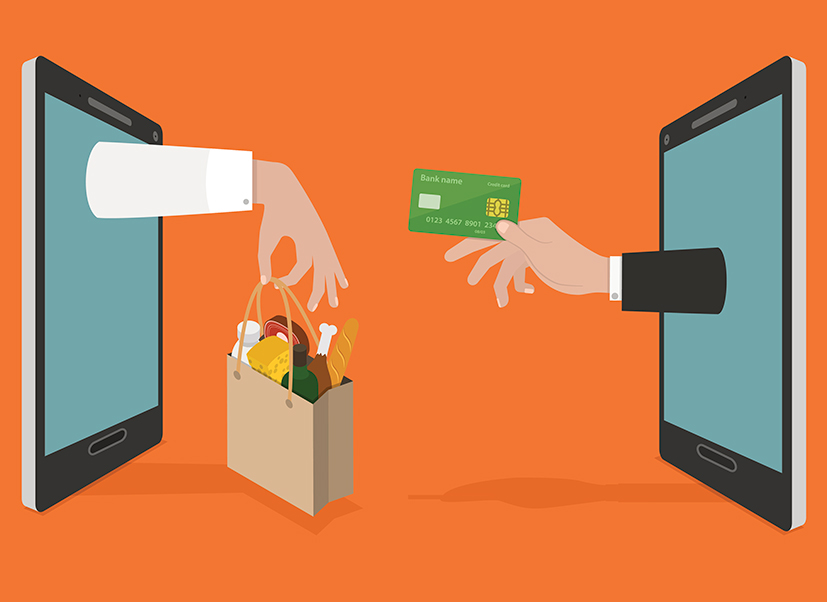 GCommerce or digital grocery is making headways across the globe and the transition was complete during the pandemic. For ages, consumers drew immense pleasure on visiting a supermarket and purchasing after closely examining the product. The American customer was not an exception to it. They are keen on selecting a meat or cheese brand of their choice and the US grocery market remained immune from the emerging trends of the e-commerce industry. Until 2019, online grocery sales in the US were 3% to 4% of the online retail business. Things have changed dramatically.
How Market Predictions Went Upside Down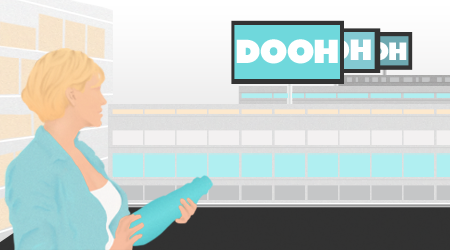 The Food Marketing Institute and Nielson have estimated that online grocery sales would reach $100 billion by 2022 in North America. Yet, the US digital grocery sales grew exponentially by 63.9% YoY by 2020 to reach $122.39 billion by 2020 itself and it is expected to grow further 12.3% in 2021, and it will be doubled to $243.67 billion by 2025. 142.9 million consumers in the US, equal to 51% of the US population have purchase groceries digitally in 2020.
Digital Grocery as a Global Phenomenon
Several emerging Asian markets including China, Japan, and the countries of Western Europe, including the UK and France have an impressive track record of providing efficient GCommerce services to customers. While 78% of online grocery retailers experienced a 102% increase in web traffic in the UK, 48% of consumers in France are buying groceries online.
Differences between Online Grocery Sales and Digital Grocery
Is promoting or purchasing grocery online and digital grocery the same? Surprisingly, it is not. Selling groceries online using an eCommerce site involves product selection, purchase, and checkout, after making the payment. Whereas, digital grocery encompasses the entire digital environment, including but not limited to; Omnichannel strategies of the online grocers to reach the end purchasing point, websites that cater to the purchasing needs of grocery buyers, sites and apps that meet personalized recipe needs of consumers. It also includes social media feeds and stories on food and grocery, promoting digital grocery shopping through sales, discounts, coupons, and competitions.
How does it work
Technological breakthroughs are instrumental for the exponential growth of digital grocery. Unlike traditional eCommerce retailers that sell grocery online, players of the modern-day GCommerce use analytics and measurable tools to trace customer information, including their location, stores around them, grocery available in those stores, and the delivery mechanism to reach them. They apply this information for developing effective strategies to reach them with personalized messages as stories on area-specific food the consumers eat, including recipes, and eating preferences, influenced by the seasonal variations and culture.
GCommerce is nourishing content and platforms surrounding the food the customers eat
Traditionally food magazines and online websites like Bon Appétit and NYT cooking have served content using text and images, following certain specific norms. Popular chefs of the prestigious restaurants of international reputation made their presence to deliver content in mainstream media like TV.
Online platforms like YouTube and TikTok have completely revolutionized the content publishing on food. Publishers at present are monetizing the data they extract using analytical tools to dish out delicious recipes using streaming, videos, and short videos to drive digital commerce, like ads, sponsorships, endorsements, influencer marketing, and virtual food festivals. Home cooks as food critics and expert food makers are uploading user-generated content to attract the audience to buy products and services while delivering content on cooking.
Albertsons Inc., an American grocery company, for example, is planning to launch a shoppable video with content around recipes and meal preparation, using foods that are on its shelves by brands it supports. It aims to connect retail stores, CPG marketers, and clients with recipe tips through shoppable and video streaming.
A Great Shift from Ecommerce Grocery to Digital Grocery
There was a drastic shift in consumer behavior during the COVID-related pandemic shutdowns, leading to a complete disruption of the market scenario and on-store grocery shopping. Several bricks- and mortar shops had to invest heavily towards complete digital transformation to meet the growing consumer demands.
From a mere 4% of consumers purchasing groceries online, more than 50% of the consumers started searching online for groceries. According to a July 2021 Inmar Intelligence survey among 1000 American consumers, 87% of them have purchased retail goods online and 50 to 75% of these purchases were grocery and 19% of the consumers have gone 100% online for grocery purchases. Mobile or in-app grocery shopping is on the rise among 25% of the respondents, purchasing at least 75% of their monthly grocery, while 20% of them making 100% grocery shopping using a mobile phone. 
Factors that Prompted Customers to Prefer Digital Grocery
Consumers that have shifted to buy online grocery is not willing to return to in-shop buying during the post-pandemic period when markets get reopened for reasons like;
28% of the shoppers would like to continue buying online, as it is very easy and convenient for them to purchase groceries.
They can save time, sitting at home, browsing their mobiles to make a purchase. Offers like free delivery of the first purchase and discounts on purchases made are also attracting customers towards digital grocery.
Digital grocery shops are offering great product variation that is not available in their favorite retail stores or supermarkets.
While 28% want to continue buying groceries online for its easy checkout and payment process, 19% like the product selection online.
Retail Digital Grocer's Response to Changing Consumer Behavior
Not all the traditional retail grocers of the US were ready to meet the growing consumers' demand for serving online grocery, as they were lacking logistics, and funds to establish infrastructure. Very few online retail giants like Amazon, Walmart, and Kroger have made efforts well ahead of the emerging market demands for online grocery shopping. While Amazon acquired Whole Foods Market in 2017, Walmart purchased Flipkart for $16 billion by 2018, and Kroger has expanded to 1,900 pickup locations for online orders. Walmart is expected to surpass Amazon in the US digital grocery market in 2021, comprising 7.5% of Amazon's online retail sales and 50% of Walmart's digital retail sales.
As consumer demand for same-day delivery raises, several Delivery intermediaries including, DoorDash, Instacart, Kroger, Shipt, and Uber have emerged. The majority of bricks-and-mortar stores that have entered the online grocery business have made arrangements with third-party services for speedy delivery. Those that are unable to invest in logistics have relied on third-party sources like Instacart to fulfill deliveries. In 2020, grocery sales through third-party delivery services were 215%, accounting for 39% of grocery delivery eCommerce sales and delivery intermediaries have earned $27.81 billion in revenue, up from $8.80 billion in 2019, and it is expected to fetch $68.24 billion by 2025.
Trends that Digital Grocery promoted
Click and collect models, where customers buy online and collect at a point of their preference.
Meeting the last mile delivery.
Picnic, a Netherland-based supermarket, for example, has revolutionized digital grocery with 14 deliveries per hour.
Alibaba's Hema app delivers grocery and cooked food within 30 minutes to its customers.
The Future of Digital Grocery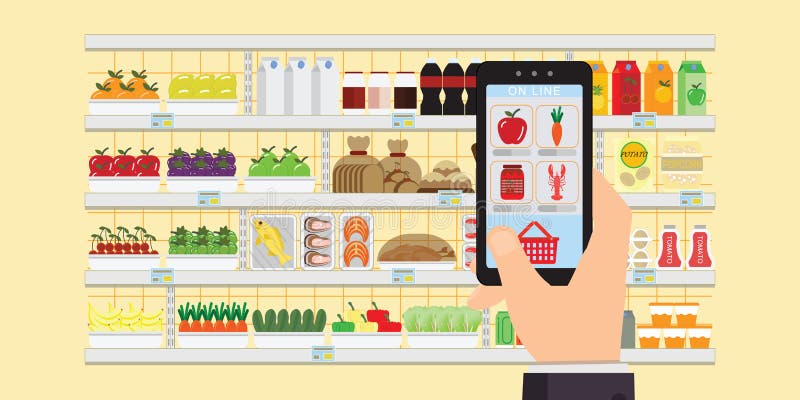 Although digital grocery sales comprise 4% of the entire retail eCommerce volume at present, more than 50% of digital grocer buyers are fueling it further by constantly researching for products online, seeking advice, and gathering inputs, according to Deloitte's "Grocery digital divide survey, 2018." These informed customers are expected to drive a 23% increase in transactions and a 36% increase in basket size. Customers that are accustomed to the ease-of-buying goods online will continue to sail with it, inspiring others to drive further online grocery buying.
Final Thoughts
Grocery shopping online has taken the world by storm and people continued to buy online even after the post-pandemic market revival. Factors like increased social media promotions, user-generated shopping experiences, emerging food media that serve highly personalized content, using a story-telling approach, the emergence of modern technologies, and the evolving market to facilitate speedily, home delivery is all set to take the digital grocery to the next level.