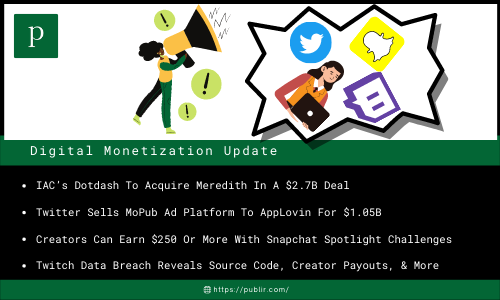 1. IAC's Dotdash To Acquire Meredith In A $2.7B Deal (AdWeek)
An IAC-owned digital publisher, Dotdash, said on Wednesday evening that it has struck a deal to buy Meredith Corp., a holding firm whose brands include People, Southern Living, and Better Homes & Gardens. The agreement has a total value of roughly $2.7 billion, according to the stipulations.
2. Twitter Sells MoPub Ad Platform To AppLovin For $1.05B (AdExchanger)
As the microblogging platform aims to focus more on ads on its own app and website, Twitter has agreed to sell mobile ad business MoPub to AppLovin Corp for $1.05 billion in cash. Similar to Google's DoubleClick, MoPub allows firms to track ad inventory in real-time, generating roughly $188 million in revenue for Twitter last year.
3. Creators Can Earn $250 Or More With Snapchat Spotlight Challenges (Variety)
Snapchat creators to be rewarded for making short-form videos for its in-app TikTok rival. Spotlight Challenges will offer cash prizes for top-performing content. The minimum prize will be $250. Typically, the total prize pots for individual challenges will range from $1,000 to $25,000, but Snap says it may sometimes offer a larger sum.
4. Twitch Data Breach Reveals Source Code, Creator Payouts, & More (TheVerge)
Twitch has revealed that there was a massive data breach. An anonymous hacker claims to have leaked the entirety of Twitch, including its source code and user payout information. The user posted a 125GB torrent link to 4chan on Wednesday labeled as "part one," suggesting that there could be more to come.
5. Fox Weather Announces Launch Date For Free Streaming Service (TheWrap)
Fox has announced October 25 to be the launch date for its Fox Weather streaming service. The 24/7, ad-supported streamer will be available at launch through internet-connected TVs via the Fox Now app, the Fox News app, and on Tubi. The Fox Weather will be available for both iOS and Android users.
6. UK Broadcasters To Integrate To Combat Streaming Competition (Bloomberg)
To defend themselves against US internet giants and proposed reform of local TV rules, UK broadcasters are building a single streaming platform. The British Broadcasting Corporation, ITV Plc, Channel 4, and ViacomCBS Inc.'s Channel 5 are developing a joint offering to better market their streaming brands.
7. Anchor Podcasts Can Take Part In Spotify Audience Network (TechCrunch)
Spotify is expanding its audience network to Anchor podcasts and plans other moves to benefit creators and advertisers. It is putting Anchor podcasts in the Spotify Audience Network, an advertising marketplace that enables advertisers to message listeners across podcasts and music. The Network operates in the US, UK, Canada, and Australia.
8. Pinterest Rolls Out New Ad Features To Drive Shopping (Reuters)
Pinterest is introducing new features for companies to promote items and ideas to users as part of an attempt to increase online commerce on the platform. Brands may now submit their product catalogs, and Pinterest will automatically put things into a slideshow advertisement, best suited for the interests of the customers.