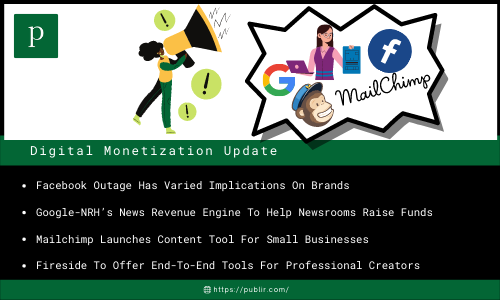 1. Facebook Outage Has Varied Implications On Brands (MediaPost)
Facebook's global outage on Monday has widespread implications for the brands as it failed to serve ads for more than six hours across Facebook and Instagram. Brands turned to Twitter and text messages. Postscript, an SMS marketing firm witnessed a 45% increase in campaigns sent. Advertisers have spent $48.48 billion on Facebook in 2021.
2. Google-NRH's News Revenue Engine To Help Newsrooms Raise Funds (Poynter)
Google News, in association with News Revenue Hub, aims to establish an open-source platform called News Revenue Engine, early next year. This platform will integrate Stripe and Mailchimp, giving newsrooms tools to raise revenue and sync data with email marketing systems to set up automated campaigns and split audiences for targeted appeals.
3. Mailchimp Launches Content Tool For Small Businesses (MediaPost)
On Tuesday, Mailchimp launched a new tool for small businesses to improve their email campaigns. Mailchimp acquired AI-supported Inspector 6 in 2020, which allows it to compare billions of marketing data sets and recommend the best practices, benchmark analyses, predictive models, brand consistency, and compliance with brand standards.
4. Fireside To Offer End-To-End Tools For Professional Creators (TechCrunch)
Fireside, a new live and interactive startup, was launched for creators with a robust set of tools for content creation, distribution, measurement, monetization, and audience growth. Fireside takes a 3% cut until the creator makes $30,000 in revenue and increases to 15%. Over 500 creators have reached 100 million audiences in its beta version.
5. Facebook Launches Co-Streaming Feature For Gaming Creators (TheVerge)
Facebook is adding a co-streaming feature to Facebook Gaming, providing access to any streamer. A streamer has to tag at least 3 steamers to give their audience a "co-streaming viewer experience". Facebook aims to increase discoverability for creators, encourage collaboration between creators, and elevate the overall viewing experience.
6. Twitter To Shut Down Scroll Soon To Merge It With Twitter Blue (TheVerge)
Twitter acquired Scroll in May, an ad-free web service that provides access to hundreds of news websites, like The Atlantic and Vox Media, for $5 a month. Twitter announced that Scroll in its present form ceased to exist by this month and it will be merged with Twitter Blue, available in Canada and Australia at present, may spread to the US also.
7. AMC+ Aims To Scale Streaming Subscribers With A Verizon Deal (AdWeek)
AMC+ entered a deal with Verizon to allow certain customers of Verizon's broadband and unlimited phone plans to get free access to AMC Networks streamer, featuring ad-free programming across its entertainment networks and early access to original shows for a year. AMC+ aims to boost its streaming subscriber's base to 9 million with this offer.