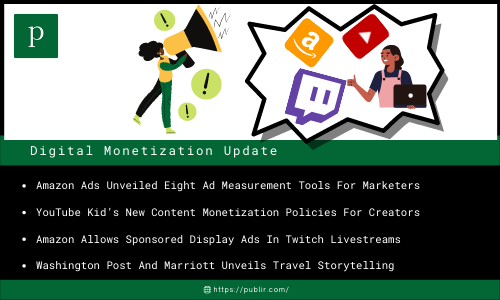 1. Amazon Ads Unveiled Eight Ad Measurement Tools For Marketers (MediaPost)
Amazon Ads announced several new tools, including Interactive Video Ads that allow customers to react using their voice. Advertisers can include voice calls-to-action (CTA) with ads, such as "Add to Cart" or "Buy Now," in Streaming TV ads and brands can run 10 to 30-second audio ads on Amazon Music's ad-supported tier with voice CTAs.
2. YouTube Kid's New Content Monetization Policies For Creators (TheVerge)
YouTube announced new policies for kid content creators on the platform. If creators want to continue in the YouTube Partnership Program, they should strictly abide by content that is not heavily commercial, promotional and encourages negative behavior or attitudes in kids. Individual videos that break the rules will lose advertisers.
3. Amazon Allows Sponsored Display Ads In Twitch Livestreams (AdAge)
Amazon Ads revealed new products for marketers, providing more places to appear on its video service. Amazon will start accepting display ads inside Twitch livestreams, according to its announcement on Tuesday. The display ads will pop up as streamers present videos on Twitch, which reaches 30 million daily visitors and 7 million-plus creators.
4. Washington Post And Marriott Unveils Travel Storytelling (MediaPost)
The Washington Post and Marriott Bonvoy have unveiled a travel storytelling feature. While Marriott sponsors the journey of three popular writers chosen for this purpose, the Washington Post offers creative tools. The storytellers will be featured in the Washington Post's takeover TikTok channel, which has nearly 1 million followers.
5. Microsoft And Alphabet Sustained Q3 Growth Amid Challenges (TheInformation)
Despite regulatory, global supply shortage, and political challenges, both Microsoft and Alphabet have announced impressive Q3 earnings. While Microsoft registered a 22% revenue growth, up from 12% a year ago, Alphabet grew at the rate of 41%, raising its operating margin to 32%. Both the tech giants are less affected by Apple's privacy policies.
6. US, Sweden And Mexico Are Potential Markets For Ad Podcast Revenue (EMarketer)
According to the podcast penetration study for 18 major markets around the world, the US is the global podcast leader in terms of content production and listener adoption, followed by Sweden with 30% internet users and Mexico with 25.8% users. English and Spanish-speaking countries have potential markets for podcast monetization and advertising.
7. Amazon Launching Project Mic To Turn Radio Listeners As Hosts (TheVerge)
Amazon is getting into the live audio rooms after Clubhouse. It is developing a new audio tool called Mic that allows any listener to produce and air radio programs of their choice with background music and effects, according to Amazon's internal presentations. Amazon claims that this will democratize and reinvent radio.
8. Adobe's New Content Credential Tool Fights Digital Piracy (TechCrunch)
Adobe is launching "content credentials", a tool to ensure creative works from being tampered and pirated. The tool includes an opt-in feature in Photoshop that cryptographically signs the metadata and edit history of content credentials-enabled images and the automatic download of content credentials. This feature helps fight misinformation