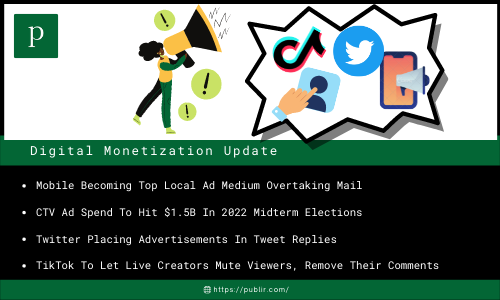 1. Mobile Becoming Top Local Ad Medium Overtaking Mail (MediaPost)
For many customers, mobile is not just the greatest accessible interface, but it is also the one they use to get advertising in a variety of categories, including local ones. According to the 2022 local advertising forecast from BIA Advisory Services, mobile will replace direct mail as the most popular form of local advertising.
2. CTV Ad Spend To Hit $1.5B In 2022 Midterm Elections (Axios)
Because cookies are being phased out, ad buyers anticipate that the 2022 midterm elections will be the first campaign cycle in which connected television (CTV) ads will capture a substantial market share of political spend. AdImpact study said around $1.5 billion are expected to be spent on CTV, compared to $1.3 billion for mobile, desktop, and tablet.
3. Twitter Placing Advertisements In Tweet Replies (TheVerge)
Twitter has started a new test where it will show advertisements right in your conversation and replies. Those who would be a part of the test will see ads after the first, third, or eighth reply to a tweet. This new ad format is in testing on both iOS and Android phones.
4. TikTok To Let Live Creators Mute Viewers, Remove Their Comments (Engadget)
TikTok is adding a new control option for live broadcasters that will enable them to mute comments from individual viewers within streams for variable time periods. The added capacity to remove all of the users' previous comments could help to manage live-stream interaction, and reduce unwelcome distractions flooding the comment stream.
5. UK's The Telegraph Passed 500K Paid Digital Subscribers (DigiDay)
In October, British publisher The Telegraph hit 500,000 paid digital subscribers, up 30% from the start of the year. For this whole week, The Telegraph has garnered more than 1 million newsletter sign-ups in 2021, a 29% increase in overall sign-ups in 2020. Telegraph achieved this feat by dropping laggards and focusing on the best performers.
6. US Spending 4.2 Daily Hours In Mobile Apps In Q3 (MediaPost)
App Annie's newest time-spent report said Americans spend an astounding 4.2 hours a day using mobile apps in Q3 2021, up from 3.9 hours in Q2. Indonesia ranks first with 5.5 hours a day, followed by Brazil with 5.4 hours, and South Korea with 5 hours. India, Mexico, Japan, Canada, and Russia are among the countries with greater usage rates than the US.
7. Facebook Will Remove Sexualized, Degrading Attacks On Celebrities (Variety)
Facebook announced that it would start removing "severe sexualizing content" targeting public figures as part of a new update to its bullying and harassment policies. As part of this new policy, it would remove any profiles, pages, groups, or events dedicated to sexualizing public figures, including celebrities, politicians, and content creators.