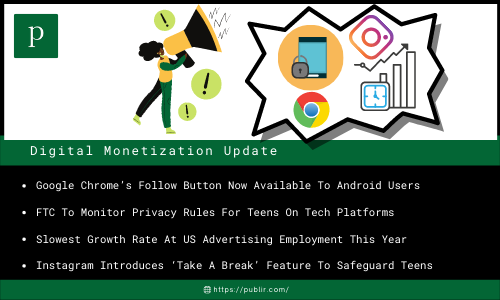 1. Google Chrome's Follow Button Now Available To Android Users (Engadget)

Google was testing a Follow button in Chrome for Android earlier this year, allowing users to get updates from websites on a new tab page. The experimental feature uses the current RSS format to offer recent articles from websites that one might want to read. The feature is now accessible on Android and will be available on iOS next year.

2. FTC To Monitor Privacy Rules For Teens On Tech Platforms (MediaPost)

Three Democrats have asked the FTC to strictly monitor tech firms to follow privacy laws for teen users. They specifically pointed out Facebook's recent move to put Instagram users between the ages of 13 and 16 into private accounts by default, and Google's commitment to prevent ad targeting based on age, gender, or interests of users under 18.

3. Slowest Growth Rate At US Advertising Employment This Year (AdAge)

In September, employment in advertising, public relations, and related services registered one of the slowest ever growth since the spring, adding only 1000 jobs. According to the monthly employment data from the Bureau of Labor Statistics (BLS), companies in the United States added 194,000 positions in September, the smallest gain this year.

4. Instagram Introduces 'Take A Break' Feature To Safeguard Teens (TheVerge)

Facebook is trying to get its reputation back on track. The social media conglomerate's Vice President Nick Clegg promised that soon, Instagram would have a "take a break" feature which will simply encourage teenagers to take a break from Instagram for a while, to make sure that they do not remain hooked and keep scrolling for hours.

5. Facebook And Its Apps Suffer Another Global Outage On Friday (Reuters)

Facebook and its family of apps were inaccessible for about two hours on Friday afternoon, the second time in a week that the social network experienced widespread problems with its services. The tech giant apologized to its customers and blamed the second worldwide outage of the week on another faulty configuration update.

6. Disney Plans To Keep ESPN Tied To Cable Bundles (CNBC)

Disney's strategic shift towards streaming competes with ESPN's business, which makes a lot of money from linear TV. ESPN is unlikely to contemplate launching a direct-to-consumer service until the pay-TV package falls below 50 million US households. Disney makes more money from cable customers than any other corporation, owing entirely to ESPN.

7. Apple Lodges Appeal In Epic Games Lawsuit (TheVerge)

Apple has filed an appeal of the verdict in its big trial against Epic, which could be worth billions of dollars and give them control of the App Store. Apple was found to have broken California's anti-steering laws, and the judge ordered Apple to allow developers to link to third-party payment systems.