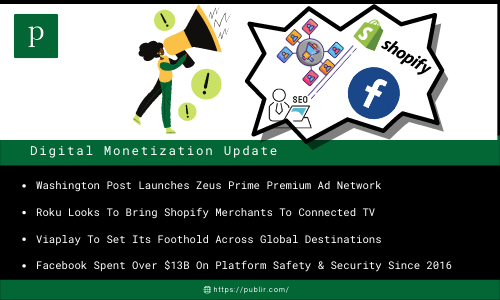 1. Washington Post Launches Zeus Prime Premium Ad Network (Axios)

The Washington Post announced the debut of Zeus Prime, a groundbreaking premium ad-buying network that connects brands and top US publishers in a real-time marketplace. The self-service platform provides brands and agencies the ability to quickly purchase and place ads across national, regional, and local publisher sites.

2. Roku Looks To Bring Shopify Merchants To Connected TV (AdAge)

Roku has announced the release of a new app that will make it simple for Shopify merchants to create, buy, and analyze TV streaming advertising campaigns. Roku's platform, which is designed for merchants to utilize on their own and with low ad budgets, has already shown to be beneficial, increasing brand attention for one advertiser by 63%.

3. Viaplay To Set Its Foothold Across Global Destinations (Variety)

Nordic Entertainment Group (NENT Group) is aiming to roll out its streaming service Viaplay to five new markets by 2023. Viaplay will be launched in the UK in the second half of 2022 and then in Canada, Germany, Austria, and Switzerland by the end of the following year. That will take its total footprint to 16 countries.

4. Facebook Spent Over $13B On Platform Safety & Security Since 2016 (AdAge)

Facebook said it has invested more than $13 billion in safety and safety measures since 2016, days after a newspaper reported the company had failed to fix "the platform's ill effects" researchers had identified. The social media giant said it now has 40,000 people working on safety and security, compared with 10,000 five years ago.

5. ViacomCBS Bundles Paramount+ And Showtime At Limited Time Deal (MediaPost)

ViacomCBS has launched a bundle, combining its Showtime and Paramount+ streaming services. While the Showtime and the ad-supported Paramount+ "essential" plan are available for an introductory price of $9.99 per month, ad-free "premium" plan for Showtime are priced at $12.99 per month.

6. Disney Stock Sinks 5% With Production Delays Due To COVID (AdAge)

Walt Disney Co. Chief Executive Officer Bob Chapek said movie and TV production delays will hamper the growth of new streaming customers this quarter, sending the shares to their steepest drop since May. Shares of Disney fell as much as 5.4% to $169.03 in New York. They were down 1.4% this year through Monday's close.

7. Twitch Unveils Deal With National Music Publishers' Association (Variety)

Twitch announced today that it is looking to de-escalate music rights issues on its platform by teaming up with the National Music Publishers' Association. In a statement released today, both parties jointly said they will "work together to build productive partnerships" between publishers and Twitch.