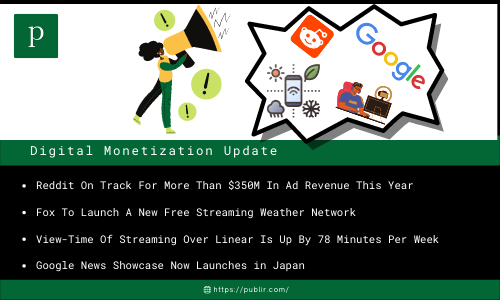 1. Reddit On Track For More Than $350M In Ad Revenue This Year (TheInformation)

According to a presentation given to advertisers this year, Reddit has a global audience of 430 million monthly users and it is now becoming a significant advertising platform. The sources say that after three years of hard work, Reddit is on track to generate more than $350 million in ad income this year, more than double what it made in 2020.

2. Fox To Launch A New Free Streaming Weather Network (FierceVideo)

Fox Corp. will launch Fox Weather, a free streaming weather network next month with a robust website and mobile apps that the company claims will provide its viewers with unparalleled weather coverage. The service marks the company's latest ambitious efforts into the direct-to-consumer streaming sector after the acquisition of Tubi in 2020.

3. View-Time Of Streaming Over Linear Is Up By 78 Minutes Per Week (MediaPost)

According to a recent poll from Roku and The Harris Poll, Americans now spend an average of 78 minutes per week watching streaming TV rather than linear TV. Last year's poll revealed a 12-minute average edge for streaming, which was the first time the research discovered streaming time topping linear time.

4. Google News Showcase Now Launches in Japan (9To5Google)

Japan will soon have access to the Google News Showcase. Over 40 publications in Japan, including national, regional, and local news organizations, have partnered with Google. Over 90% of the newspapers, according to Google, "offer local or neighborhood news". News Showcase cards will debut in Google Discover on mobile, web, Android, and iOS.

5. Microsoft Accounts Can Now Go Fully Passwordless (TheVerge)

Microsoft is leading the way for a passwordless future. You no longer require passwords to login to your Microsoft account instead you can use the Microsoft Authenticator app, Windows Hello, a security key or an SMS/email verification code. The new feature can be used to sign in to Microsoft apps and services such as Outlook, OneDrive, and more.

6. Ad-Supported Discovery+ Generating More Revenue Than SVOD-Only (MediaPost)

The hybrid advertising- and subscription-supported version of Discovery+ outperforms the subscription-only (SVOD) version as its revenue per user, according to Discovery CFO Gunnar Wiedenfels, who spoke at this week's Bank of America Media, Communications and Entertainment Conference. The AVOD costs $4.99 per month, while the SVOD costs $6.99.

7. The FDA Should Regulate Instagram's Algorithm As A Drug (TechCrunch)

According to a WSJ survey, 32% of teen girls who are self-conscious about their bodies say Instagram makes them feel worse. Out of the teens with suicidal thoughts, 13% of British and 6% of Americans link them to Instagram. The reporters said the FDA must exercise its legal authority to oversee the algorithm that powers this poison by Instagram.