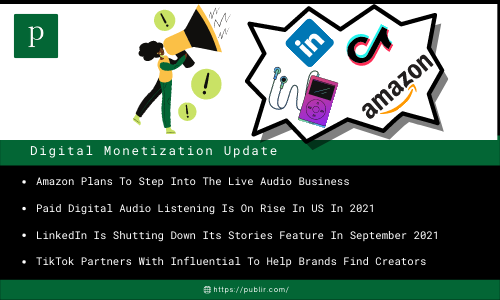 1. Amazon Plans To Step Into Live Audio Business (Axios)

Amazon is planning to launch live audio, a feature similar to Twitter spaces, Spotify, and clubhouse in near future. Amazon has been making serious efforts in expanding its music and podcast subscription and now the company recognizes the need for live audio which has been a need of time to bolster up the subscriptions and sales on the website.

2. Paid Digital Audio Listening Is On Rise In US In 2021 (EMarketer)

Paid audio listening has increased by 5 million in the US in 2021 since Q1, and over 40% of the US internet users are expected to become paid audio subscribers by year-end. Spotify alone contributes a major share of 36.7% of paid subscribers, followed by Apple Music listeners (30.3%), and YouTube Premium subscribers (19.4%).

3. LinkedIn Is Shutting Down Its Stories Feature In September 2021 (AdAge)

LinkedIn is shutting down its Stories feature by the end of September, a year after rolling it out. As it turns out, ephemeral posts are not a perfect fit for every social network. Perhaps with ROI and KPIs in mind, LinkedIn says its users want videos that stay on their profiles permanently, not ones that vanish.

4. TikTok Partners With Influential To Help Brands Find Creators (AdAge)

TikTok is integrating Influential, an influencer marketing company, into its Creator Marketplace to help brands identify a suitable creator. Influential assesses TikTok's audience demographics, content, keywords, engagement rates, views, growth trends, and best-performing videos, to find the right creators for native and paid campaigns.

5. DoubleVerify To Provide Publisher Ad Transparency Scores (MediaPost)

Media measurement platform DoubleVerify acquired Meetrics, a European ad verification company to provide an Inventory Compatibility Score to publishers to display the exact value of their inventory to digital advertisers to maximize their revenue. Publishers will also get a breakdown of keyword, category, and inclusion/exclusion compatibility.

6. 87% GenZers Confirm Increased Use Of Interactive Video (MediaPost)

According to a new survey, 87% of Gen Zs said they have used more mobile apps with built-in interactive video streaming or video-calling functions in the last year. According to the report, Gen Z prefers interactive, collaborative, and shared digital experiences such as live video, live audio, augmented reality (AR), and virtual reality (VR).

7. NFT Mania Is Dominating Twitter Platform (AdAge)

With the values and popularity for cryptocurrency skyrocketing globally, NFT mania is reaching its fever pitch on the Twitter platform with crypto enthusiasts spreading their trading stories of expensive purchases and huge returns. NFT testimonials are making the staple content for Twitter these days.