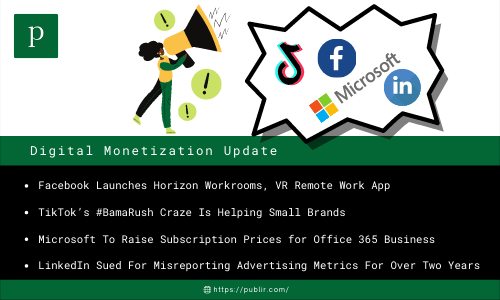 1. Facebook Launches Horizon Workrooms, VR Remote Work App (TheVerge)

Facebook is launching "Horizon Workrooms", a VR app aimed at reinventing virtual office spaces. With that, you can enter and experience a virtual reality office as personally designed avatars. In the workroom, you can see your computer screen and keyboard, interact with your co-workers, brainstorm, and give presentations.

2. LinkedIn Sued For Misreporting Advertising Metrics For Over Two Years (MediaPost)

LinkedIn in the US is facing a class action from its advertisers related to the revelation in November last year that it misreported advertising metrics for ad views and video plays for at least two years. The accusations say that for years, the prices it charged advertisers were too high as they were based on inflated metrics tied to clicks.

3. TikTok's #BamaRush Craze Is Helping Small Brands (AdAge)

Millions of TikTok users have been posting videos with the hashtag #BamaRush in recent weeks. The trend has resulted in a flood of user-generated content and free advertising for numerous brands, providing them with information on what their customers buy and how they style it. It has been a crash course in viral marketing for smaller companies.

4. Microsoft To Raise Subscription Prices for Office 365 Business (CNBC)

Microsoft is announcing its first price increase for its Office 365 and Microsoft 365 services in a decade. The price increases will affect commercial and business users of Microsoft's software as a service (SaaS) offering next year. Microsoft 365 Business Basic will go up to $6 from $5, and Microsoft 365 Business Premium will move to $22 from $20.

5. Comcast, ViacomCBS To Launch SkyShowtime In Europe (AdExchanger)

Comcast and ViacomCBS are teaming up to launch a European streaming service in 2022, "SkyShowtime". The service will include new and previously released TV shows and movies from Comcast-owned Sky and NBCUniversal and ViacomCBS brands like Showtime, Nickelodeon, and Paramount Pictures.

6. Facebook Launches Reels In US To Compete With TikTok (TechCrunch)

Facebook in the US is going to look slightly more like TikTok for some users. Today, the company announced that it is testing Facebook Reels stateside, which will bring the short-form, TikTok-like videos to the platform. These will show up for some users in the News Feed and within Groups, where people can watch them together.

7. Amazon Acquires Rights To 57Th Academy Of Country Music Awards (Bloomberg)

Amazon Prime Video continues its expansion into live programming. The streamer has made a deal for the 57th Academy of Country Music Awards. The 2022 telecast, produced by MRC's dick Clark productions, marks the first time a major award show is live-streamed exclusively on an SVOD (subscription video on demand) platform.