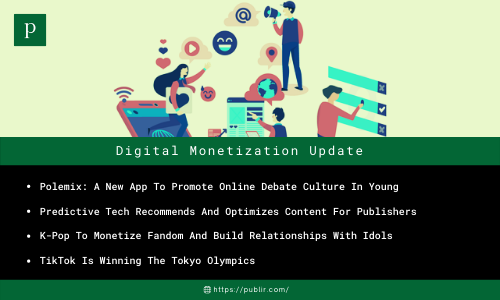 1. Polemix: A New App To Promote Online Debate Culture In Young (TheVerge)

Polemix is a new app aimed at promoting free discourse among young people. The founders of this TikTok clone believe it as a free market of ideas, with selective admission. So far, the app attracted a young community that is eloquent, outspoken, and passionate about the app's philosophy of promoting online debate culture in concentrated form.

2. Predictive Tech Recommends And Optimizes Content For Publishers (MediaPost)

WhizzCo launched a Content Recommendation, Yield Optimization Platform for publishers to work with multiple content recommendation engines through an intuitive dashboard. It applies AI algorithms and machine-learning neural networks to predict the CPM for each individual content recommendation vendor that serves impressions.

3. K-Pop To Monetize Fandom And Build Relationships With Idols (TheVerge)

Parasocial relationships are no longer one-sided, thanks to platforms that found pioneering new ways to monetize them. K-Pop is an online platform that helps fans feel as though they have direct access to their idol favorites. The access helps shape the way the fans interact with the idol as a form of friendship and how they engage with other fans.

4. TikTok Is Winning The Tokyo Olympics (WashingtonPost)

It is estimated that around 16.7 million American viewers tuned in to NBC's television coverage of the Opening Ceremony, but over 6.5 million people watched American rugby player Ilona Maher's TikTok of the cardboard beds in the Olympic Village. Many athletes are taking to TikTok to share an inside look the world has never experienced.

5. 40% Brands Committed To Upfront Deals For Amazon CTV Ad Slots (AdAge)

Amazon reaches 120 million streaming viewers through its OTT platforms like Fire TV, ad-supported IMDb TV, and the livestreaming site, Twitch. Amazon saw a 40% increase in the number of advertisers committing to streaming video deals during this year's upfront ad haggle, indicating the growing importance of CTV and OTT advertising for its business.

6. Travel And Shopping Engagement Pushed Pinterest's Q2 Profit By 125% (AdWeek)

Pinterest's revenue more than doubled YoY in Q2, reaching $613.2 million, up 125% from $272.5 million in the same period of 2020. Travel spend on its platform was particularly strong followed by shopping engagement, as Gen Z Pinners showed strong engagement with the platform's new Idea Pins native content format.

7. Zoom Reaches $85M Settlement Over User Privacy, 'Zoombombing' (Reuters)

Zoom Video Communications Inc agreed to pay $85 million and improve its security practices to settle a lawsuit alleging that it violated users' privacy rights by sharing personal data with Facebook, Google, and LinkedIn, as well as allowing hackers to disrupt Zoom meetings through a practice known as Zoombombing.