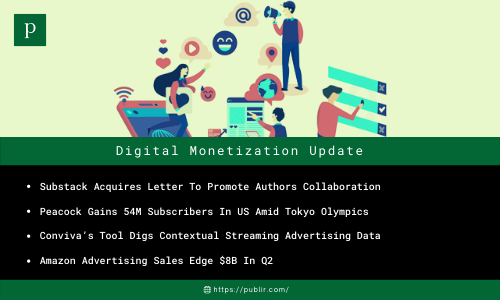 1. Substack Acquires 'Letter' To Promote Authors Collaboration (DigiDay)
Substack has acquired Letter, a public correspondence startup to position it as a hub for larger relationships between creators and their audience. Letter's roster of writers includes several top names like Noam Chomsky, Yuval Noah Harari, and Ayaan Hirsi Ali. This is an attempt to change the rules of engagement for online discourse.
2. Peacock Gains 54M Subscribers In US Amid Tokyo Olympics (HollywoodReporter)
Comcast-owned NBCUniversal's ad-supported streaming service Peacock hit 54 million subscribers in the US market and more than 20 million monthly active users in Q2. It made a 50% growth in subscriber base in over 90 days, thanks to the Tokyo Olympics and release of "The Boss Baby 2" and the debut of "Dr. Death".
3. Conviva's Tool Digs Contextual Streaming Advertising Data (AdExchanger)
The streaming analytics company Conviva released a tool with Trade Desk that places a sensor in publishers' and programmers' videos or streaming content to monitor video quality and engagement, such as buffering rates or overall watch time. This sensor is not a third-party data collector like a cookie or SDK.
4. Amazon Edged $8B Advertising Sales In Q2 (AdAge)
Amazon's advertising business grew 83% YoY in Q2, generating $8 billion in ad sales, while its total retail sales reached $113 billion, with 27% YoY growth. Amazon Web Services, the cloud computing product has earned $14.8 billion in revenue, with a 37% YoY increase. Its sales revenue however fell short of analytics' expectation of $115 billion.
5. Retail, CPG, Entertainment Drive 47% Of US Digital Ad Spending (Emarketer)
The US retail, consumer packaged goods (CPG), and entertainment industries will drive the digital ad spending by over 31% in 2021. Digital ad spends in the entertainment industry grow by 37.2% to reach over $11 billion, retailers will grow by 34.5% to reach $48 billion, followed by CPG digital ad spending by 31.7% to reach nearly $31 billion.
6. Robinhood Grew Users Spending Less On Digital And Paid Marketing (AdAge)
Robinhood, an investment app, has cut its digital and paid marketing spending by 15% to about $33 million in the first quarter vs. the same quarter a year ago. Its spending has fallen further by 14% to $78 million in 2020. Robinhood focused on Referral Program, rewarding referring and referred customers from $2.50 to $225 to lower direct expense rates.
7. Athleta Launches Well-Being Platform For Women (AdWeek)
Athletic apparel retailer Athleta unveiled a new health and wellness platform called AthletaWell, a brand loyalty program for members of the Athleta Rewards. It aims to increase engagement and loyalty, by building a community of women around premium content and conversations on a range of topics, including body positivity and health.