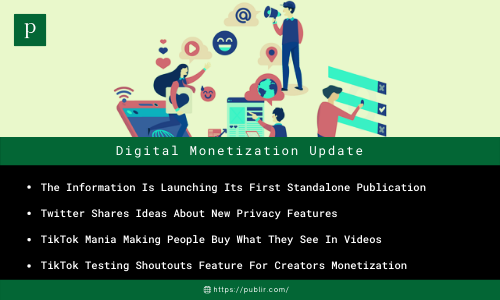 1. The Information Is Launching Its First Standalone Publication (Axios)

CEO and creator Jessica Lessin tells Axios, The Information starts a new self-service publication on batteries and electric cars. This is the first time that a high-end business and technology media firm charges its yearly professional subscription price of around $400 separately for content.

2. Twitter Shares Ideas About New Privacy Features (TechCrunch)

Twitter introduces a one-stop "privacy check-in," which will allow users and others to utilize the newest Twitter conversation restrictions to become more private on the site or to move easier between public and private tweets or between their individual accounts.

3. TikTok Mania Making People Buy What They See In Videos (Vox)

Products like a cleaning paste or an Eos shaving cream that are once easily available across the US stores are now out-of-stock, thanks to TikTok review videos that are tempting people to get them at once. There are exclusive stores opened now to sell products shown on TikTok. TikTok may bring shopping features to the platform for US consumers.

4. TikTok Testing Shoutouts Feature For Creators Monetization (AdAge))

TikTok is testing a feature similar to Cameo, the influencer-on-demand video app, and will let fans pay popular accounts for video Shoutouts to create a channel for brands to connect with creators. It also offers personalized videos from favorite creators on birthday wishes, a pep talk, or another message.

5. Ross Leveraged Community, Content, And Ecommerce For Profits (AdWeek)

Ross started the Facebook group Bass Fishing Favorites in 2010 to create a community for like-minded anglers and started sharing tips, and tales of life on the water. It became Catch Co., a content creation company eventually, with a supply subscription box and eCommerce site. It currently has 150000 subscribers that pay $20 to $40 per box.

6. Andreessen Horowitz Debuts Future With A Newsletter and Podcast (MediaPost))

Silicon Valley Venture capital firm Andreessen Horowitz has launched a site called Future in an apparent effort to control the narrative about the company and the technology industry at large. The new site will also offer a newsletter and podcasts, a valuable information source for its readers.

7. Merkle Acquires LiveArea For $250M For Commerce Integrations (AdExchanger)

Dentsu-owned Merkle has acquired LiveArea, a commerce agency for $250 million. LiveArea works with retailers on commerce and marketing. It provides design, creative strategy and integrates customer data with eCommerce tech such as order management systems (OMS) and marketing clouds. Its clients include Adidas, Advance Auto Parts, and Barbour.