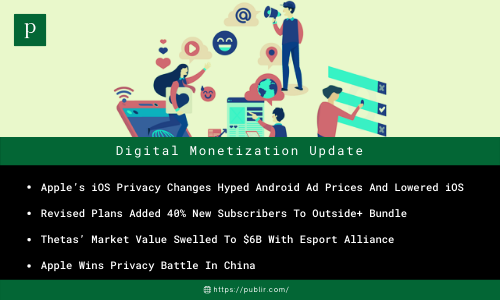 1. Apple's iOS Privacy Changes Hyped Android Ad Prices And Lowered iOS (WSJ)

With Apple's tracking change took effect in April, less than 33% of iOS users alone have opted for tracking. As a result, the prices for mobile ads directed at iOS users have fallen and ad prices targeted at Android users have risen. This had also limited the advertisers' access to granular data that made mobile ads on iOS devices effective.

2. Revised Plans Added 40% New Subscribers To Outside+ Bundle (Digiday)

Since launching a subscription bundle for its titles in May, active lifestyle publisher Outside has seen 40% of new subscribers choose the Outside+ bundle over an individual subscription for one of its 20 titles. The publisher hopes that Outside's 1.5 million existing subscribers will also convert to pay for its subscription bundle.

3. Thetas' Market Value Swelled To $6B With Esport Alliance (Bloomberg)

Theta, the blockchain project supports Esports, a peer-to-peer video streaming network that offers rewards to many of its 1 million monthly users in exchange for unused bandwidth. After rallying more than 300% this year, Theta's market value has swelled to around $6 billion, putting it in the ranks of the top 20 digital tokens.

4. Apple Wins Privacy Battle In China (Financial Times)

Chinese tech companies' efforts to oppose Apple's privacy policies were forestalled, a significant victory for the iPhone-maker. Tech groups led by Baidu, Tencent, and ByteDance have created a new way of tracking iPhones for advertising, called CAID that would let them identify users even if they refused to let apps use Apple's IDFA.

5. Trade Group Warns Tech Firms May Stop Services In Hong Kong (NYT)

An Asian industry group, which includes Google, Facebook, and Twitter, has warned that if Hong Kong's plans to amend privacy regulations go forward, digital companies may quit delivering their services. The warning was issued in a letter from the Asia Internet Coalition, which includes all three companies, as well as Apple Inc, LinkedIn, and others.

6. ByteDance Selling AI That Powers TikTok To Other Companies ( BusinessStandard)

ByteDance, the Beijing-based parent company of video-sharing app TikTok has started selling TikTok's AI to other companies through its new division called BytePlus. The US fashion app Goat, Singapore travel site WeGo, Indonesian shopping app Chilibeli, and India-based social gaming platform GamesApp are its clients already.

7. Didi Cybersecurity Probe Blindsides Shareholders (Reuters)

The probe announcement on the ride-hailing company Didi, within two days after its $4.4 billion New York stock market debut, has stunned investors. Didi was unaware of the CAC investigation and it knocked the stock down by as much as 10% before its IPO. Due to the US holiday, the stock closed down 5.3% and did not trade on Monday.