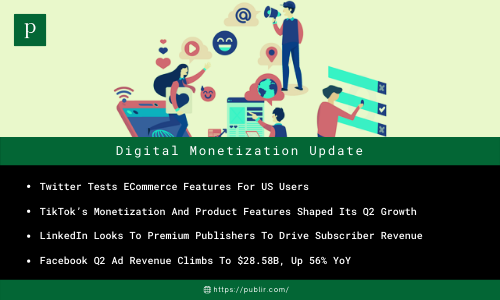 1. Twitter Tests ECommerce Features For US Users (AdAge)
Twitter is launching Shop Module as a pilot in the US that lets businesses showcase scrollable products at the top of their Twitter profile. Users can tap on a product to learn more or make a purchase. Purchases can be completed from within the app through Twitter's in-app browser. This gives brands direct access to customers.
2. TikTok's Monetization And Product Features Shaped Its Q2 Growth (EMarketer)
TikTok will charge $1.4 million for a homepage takeover in the US during Q3, and that figure will rise during Q4, especially during the holiday period. Its monetization and product features like 3 minutes short videos and TikTok creators for brands, earned a 30% growth in users in the top 10 growth markets globally.
3. Klaviyo's Tools To Enable Email, Text Alerts And SMS A/B Tests (MediaPost)
Klaviyo announced a new customer engagement tool that alerts email and text subscribers when a product they like goes on sale at a lower price. The tool automates price-drop messages and avoids the need for manual one-off campaigns. Klaviyo is also debuting SMS A/B Testing, enabling brands to automatically test different variations of SMS campaigns.
4. Facebook Q2 Ad Revenue Climbs To $28.58B, Up 56% YoY (ZDNet)
Facebook reported Q2 2021 Earnings Per Share of $3.61 versus the average Wall Street analyst estimate of $3.02. Revenue was $29.08 billion versus the average estimate of $27.82 billion from Wall Street analysts. The quarter's ad revenue was $28.58 billion, up 56%. "Other" sales amounted to $497 million, up 36%.
5. LinkedIn Looks To Premium Publishers To Drive Subscriber Revenue (DigiDay)
LinkedIn wishes to extend the base of its premium members that shell money for membership. LinkedIn has launched a Premium News feature recently, which gives its Premium members greater access to content published by sites that use Piano's paywall technology.
6. Brands Shift to Digital Ads Accelerates In Americas (TheInformation)
Dell is planning to shift 15% of the nearly $100 million ad budget it typically spends on TV advertising in the Americas to digital ads. Dell and other large brands are accelerating a year-long shift in spending toward digital ads that have delivered sizable revenue gains to big tech companies. A 69% increase in Alphabet's Q2 ad revenue is evident.
7. DoubleVerify Adds Brand-Safety Solution To YouTube (MediaPost)
DoubleVerify has extended its Brand Suitability Tiers solution to YouTube and introduced its Brand Safety Floor as a turnkey option in its DV Pinnacle service and performance platform. This allows brands to align suitability settings with their own standards. Advertisers can use it across digital channels, like YouTube, Facebook, and the open web.