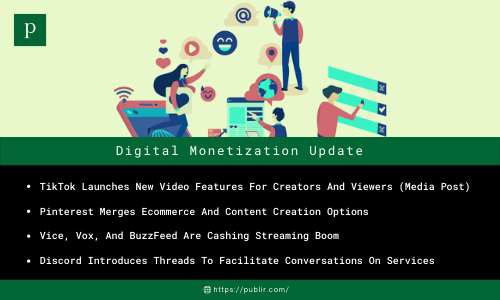 1. TikTok Launches New Video Features For Creators And Viewers (Media Post)

TikTok is expanding its LIVE platform, which allows creators to live-stream and respond to viewer comments and questions. Some of the top LIVE categories include the ability to go live with co-hosts, Q&A Chat to improve keyword filters, gaming, talents, fashion, and daily life. The top recommendations feature allows turning them into a sponsorship.

2. Pinterest Merges Ecommerce And Content Creation Options (AdAge)

Pinterest announced a new affiliate tool, a multi-page video and image format that allows creators to earn money based on the number of items they sell through affiliate links and partnerships with brands on the sponsored content. Creators can tag their Idea Pins with any Product Pin or integrate their affiliate programs to monetize recommendations.

3. Vice, Vox, And BuzzFeed Are Cashing Streaming Boom (TheInformation)

Digital media firms like Vox, Vice, and Buzzfeed that have long struggled to compete with Facebook and Google for a share of the ad market are generating revenue by making TV shows and movies for streaming services like Netflix and Amazon, and TV networks like CNN and HBO. They are making the best use of the explosion in video-streaming services.

4. Discord Introduces Threads To Facilitate Conversations On Services (TheVerge)

Discord has launched its Threads feature that allows servers to improve the back-and-forth of conversations on the service. Threads is different from the Replies feature, where users will be able to create new threaded conversations using a new "#" option across Windows, macOS, Linux, iOS, Android, and the web today.

5. Conversational Media Unveiling Smarter Digital Advertising Avenues (AdAge)

Conversational media offers a natural way for brands to reach consumers where they are all the time in messaging. In knowing how innately personal messaging is, conversational media allows brands to enter chat in a way that is privacy-safe and authentic. It offers a new form of experience for people, longing for the post-pandemic era.

6. Google Parent Alphabet Beats Quarterly Revenue Estimates (Reuters)

Quarterly revenue and earnings of Google parent Alphabet Inc has increased to a record high, according to the firm. It is largely driven by an increase in advertising costs as more customers shop online. Alphabet's share has increased by 3.3% in extended trading, following the results, which the expert expectations can comfortably surpass.

7. Nielsen Unveils Solution For Cookies-Less Media Measurement (AdAge)

Nielsen finds a solution to measure metrics in a cookieless world via a complex workaround that uses machine learning across numerous context clues to help track and categorize people even when they are not logged into brand or publisher databases. It aims to apply Machine learning, panels, and context clues to handle walled gardens.