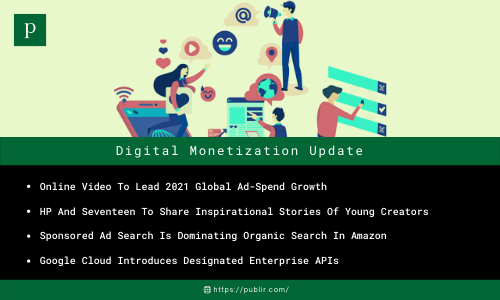 1. Online Video To Lead 2021 Global Ad-Spend Growth (MediaPost)
Online video advertising will be the fastest-growing digital channel in 2021, rising 26% to $63 billion, according to Zenith's just-released Advertising Expenditure Forecasts report. Online video and performance-led eCommerce advertising will add $40 billion, or 11.2%, to global advertising spend, for a total of $669 billion.
2. HP And Seventeen To Share Inspirational Stories Of Young Creators (AdAge)
HP and Hearst Magazines' Seventeen are partnering to share stories of young creators who are promoting STEM training. A 7-minute documentary profiling a 16-year-old Jay Patton, founder of Unlock Academy, an online and in-person coding school for young people into technology will be shared across Seventeen's multimedia and social platforms.
3. Sponsored Ad Search Is Dominating Organic Search In Amazon (AdExchanger)
Sponsored products are overtaking organic results in Amazon. Amazon has more than doubled the average number of sponsored products and they are taking precedent in the top 20 search results. As more sellers start bidding for the top positions, ad metrics like cost per click go up. So do the overall rates of sponsored product units vs organic listings.
4. Google Cloud Introduces Designated Enterprise APIs (Protocol)
Google Cloud on Monday is rolling out a new designation for a set of APIs that are important for enterprise customers across Google Cloud, Google Workspace, and Google Maps Platform. The new Enterprise APIs are governed by a set of tenets to ensure that any changes will bring as little disruption as possible to the customer.
5. Digital Marketing Strategies Of Adidas And Nike Paying Well (AdAge)
By teaming with various individual Olympic athletes, and national teams playing for the Tokyo Olympics, both Nike and Adidas have created short videos for social media. While Nike drew 15.8 million unique US viewers for its video content across Facebook and YouTube, Adidas drew 1.8 million unique US viewers across Facebook and YouTube in June.
6. HBO Maxs' A Love Letter To Bachata Promotes Dominican Music Of The 60s (AdWeek)
HBO Max streaming network Pa'lante is kicking off a week-long pop-up in New York's Washington Heights neighborhood. The interactive program called "a love letter to bachata," begins on July 30 and concludes by August 6, will release two HBO Max streams on Latin American music and dance style, popular in the Dominican Republic since the early 1960s.
7. Apple Releases iOS Fix, The 13th Zero-Day This Year (TheRecord)
APPLE has released an iOS fix, the 13th zero-day fix of the year, over a vulnerability that would allow hackers to take over your device. The fix was reportedly for iOS, iPad OS, and macOS; and the company has encouraged users to update to avoid the vulnerability.