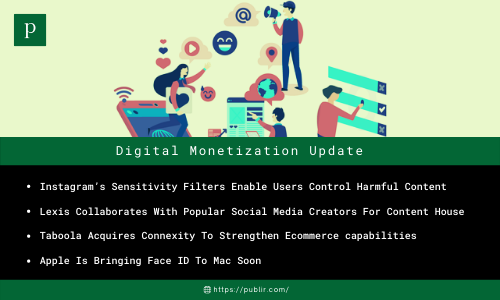 1. Instagram's Sensitivity Filters Enable Users Control Harmful Content (TheVerge)
Instagram introduced a sensitivity filter in stories and feeds that allows people to set limits around how much potentially sensitive content they might see on their Explore page. It is supposed to filter out things like self-harm content, and it is turned on by default.
2. Lexis Collaborates With Popular Social Media Creators For Content House (AdAge)
The car manufacturer Lexus has acquired Los Angeles-based 100 Thieves, an esports and lifestyle brand that operates video game tournaments. 100 Thieves' Content House, home to the organizations' creators, is renamed as the Lexus Content House, and popular YouTube and Twitch streamers will collaborate to generate a range of content.
3. Taboola Acquires Connexity To Strengthen ECommerce Capabilities (AdAge)
Taboola, with 9,000 publisher clients, has acquired commerce-based ad tech company Connexity, for $800 million. Connexity with 6,000 publishers and retail partners, including eBay and Walmart, connects visitors on publishers' websites to merchants and retailers, with an affiliate link business. This strengthens Taboolas' eCommerce capabilities.
4. Apple Is Soon Bringing Face ID To Mac (9To5Mac)
Apple plans to bring Face ID to the Mac within the next "couple of years," Bloomberg journalist Mark Gurman said in the latest edition of his Power on newsletter. Gurman says that he believes Apple's ultimate goal is to shift all of its products to Face ID, including the lower-end iPhones such as the iPhone SE and the iPad Air, which features Touch ID.
5. Pandemic Accelerated Restaurants' Digital Transformation Continues (AdWeek)
Digital orders increased to 20% from 5% pre-pandemic, according to The National Restaurant Association, US. The in-person dining restaurants continued to use QR codes for menus and a tab to click for curbside delivery. The restaurant industry owns a treasure trove of first-party customer data now to target customers with personalized messages.
6. Comcast To Insert Real-Time Olympic Footage In Ads (Variety)
The cable-and-entertainment giant Comcast aims to add innovation while it airs ads during Tokyo Olympics. Comcast owns NBCUniversal, which has the rights to broadcast the Games and use Olympics clips and highlights in various ways. Comcast plans to insert footage from this year's Games in commercials.
7. Microsoft Is Not Most Impersonated Brand In Phishing Emails Now (MediaPost)
Crédit Agricole has knocked Microsoft out of the top slot for the first time as the brand most exploited by phishing artists. In Q2, Crédit Agricole phishing URLs rose by 296%. Microsoft, after four straight quarters as number 1, fell to third on the list for the first half of the year.