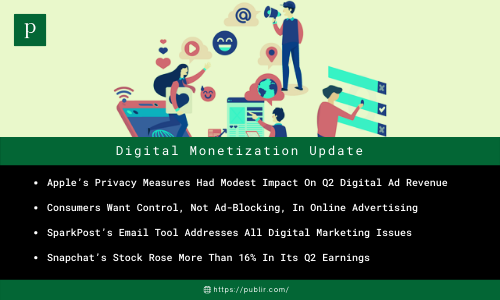 1. Apple's Privacy Measures Had Modest Impact On Q2 Digital Ad Revenue (CNBC)
According to Bernstein's analysis, Apple's privacy change in iOS had a modest impact on Q2 digital ad spend due to reduced targeting capabilities. While Snapchat reported a stunning 116% ad revenue increase, lifting its quarterly revenue to nearly $1 billion, Twitter registered a 79% revenue increase.
2. Consumers Want Control, Not Ad-Blocking, In Online Advertising (AdAge)
Ad-blocking is not the top go-to solution for 79% of respondents according to a new survey from Magna and Brave web browser. "We understand the role online ads play in supporting content," they say. 77% wanted online ads that are privacy protected in comparison to 73%, who wanted a browser that blocks ads. They welcomed ads that tell a story.
3. SparkPost's Email Tool Addresses All Digital Marketing Issues (MediaPost)
SparkPost launched a deliverability analytics tool to improve the overall performance of email marketing campaigns, gather important data to deliver the right content to the right people and drive success across all digital marketing efforts. It will help detect email campaign performance issues early and respond to improve audience engagement.
4. Snapchat's Stock Rose More Than 16% In Its Q2 Earnings (CNBC)
Snapchat's shares jumped more than 16% after the firm revealed its second-quarter earnings that exceeded analysts' forecasts in terms of profitability, sales, and user growth. Snapchat said that it was not harmed by Apple's iOS 14.5 privacy changes, as it had expected. Snapchat's net loss shrank by 53% to $152 million, down from $326 million a year earlier.
5. Google Plans To Reveal How It Found Search Results (Reuters)
Google will soon share consumers with additional information on how the search engine arrived at the results it does. People searching for information will now be able to delve into specifics such as how their results matched particular search keywords, allowing them to better determine if the content is relevant, according to the company.
6. Post-Pandemic Startup Surge In US (MediaPost)
New business applications in the US from June 2020 through May 2021 experienced the greatest increase on record since 2004, according to recent data. In second-quarter 2021, about 150,940 new businesses listed their openings on Yelp, surpassing pre-pandemic levels by 8%, up from 146,160 in first-quarter 2021.
7. Sensical: A Free Kids' Streaming Channel Ensures Child Safety (AdExchanger)
Common Sense Networks launched its ad-supported, free streaming service 'Sensical' for children. It ensures high standards around child safety and learning compared to algorithm-driven platforms, like YouTube Kids. It includes 15,000 hand-picked videos, organized into 50 channels and being distributed via iOS, Android, Roku, Apple TV, and others.