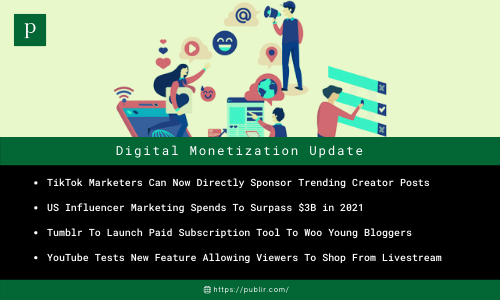 1. TikTok Marketers Can Now Directly Sponsor Trending Creator Posts (AdAge)
TikTok is planning to announce the global launch of Spark Ads today. It is a hybrid format available in TikTok's Ads Manager that includes organic content and paid advertising. It permits brands to sponsor creators' already published posts with their authorization. This signifies how marketers want to tap creator's content, in demand among consumers.
2. US Influencer Marketing Spends To Surpass $3B in 2021 (eMarketer)
Influencer marketing spends in the US is set to grow more than 30% this year. It is estimated to exceed $3 Billion in 2021 and will surpass $4 billion next year. There was 14.4% growth last year. In 2021, influencer marketing spending in the US is expected to grow 33.6% to reach $3.69 billion.
3. Tumblr To Launch Paid Subscription Tool To Woo Young Bloggers (WSJ)
Tumblr has started a pilot, Post+, which allows certain users to charge their followers a monthly subscription in return for exclusive content. Post+ will provide content producers a choice of quarterly rates to charge their followers—$3.99, $5.99, or $9.99—with Tumblr taking a 5% cut. Users can continue to publish free content.
4. YouTube Tests New Feature Allowing Viewers To Shop From Livestream (TechCrunch)
YouTube will begin testing a new feature that will allow Livestream viewers to shop for items right from the streams. According to the business, the functionality will be limited to a few creators and companies at first. It is an augmentation of the integrated purchasing experience YouTube had begun beta testing earlier this year.
5. Netflix Eyes On Gaming To Extend Content Shelf Life (TheVerge)
Netflix currently has around 209 million paid subscriptions, adding 1.5 million paid memberships in the second quarter of 2021. Unlike its rivals, who are busy acquiring film studios, Netflix eyes on gaming tracks. It aims to develop games for mobile-first, though other formats may be considered down the line to extend the shelf life of content.
6. Salesforce To Connect Companies Via Slack After $27.7B Deal (Reuters)
Salesforce.com completed its $27.7 billion acquisition of Slack Technologies Inc, a huge bet that Slack's workplace tool will grow popular for collaborations between the companies. US antitrust regulators approved the acquisition this week, permitting the formation of a stronger competitor to Microsoft Corp.
7. Clubhouse Exits Beta, No Longer Invite-Only (TheVerge)
Viral audio-only social network, Clubhouse, has lifted the invite-only restriction from its platform. The company is ending the year-long beta period for the app, meaning it is now open to everyone on both Android and iOS platforms. The app can now simply be downloaded from the respective app stores.