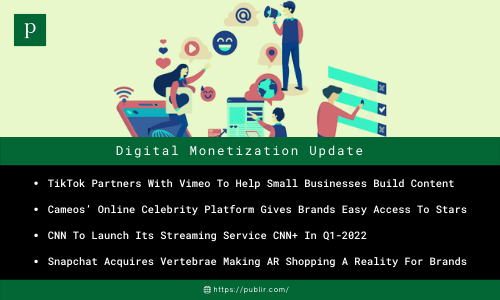 1. TikTok Partners With Vimeo To Help Small Businesses Build Content (AdAge)
TikTok is tapping video delivery platform Vimeo to help small businesses make content for TikTok. The new integration will connect Vimeo's video creation tools with TikTok Ads Manager, allowing Vimeo users to drop their own branding into TikTok-ready templates.
2. Cameo's Online Celebrity Platform Gives Brands Easy Access To Stars (AdAge)
Chicago-based Cameo is expanding into business-to-celebrity transactions by making it simple for the brands to contact stars online. It is building a roster of 35,000 on-demand public personalities for hire and positions itself as a resource for marketers. Brands can easily access celebrities online through Cameo now.
3. CNN To Launch Its Streaming Service CNN+ In Q1-2022 (AdWeek)
CNN is recruiting hundreds of employees and producing dozens of programs for a subscription streaming service set to launch in the first half of next year. CNN+ publicly unveiled the new endeavor on Monday morning. It will run alongside CNN's existing television networks, with eight to twelve hours of live content each day.
4. Snapchat Acquires Vertebrae Making AR Shopping A Reality For Brands (TheVerge)
The parent company of Snapchat has bought Vertebrae, a company that lets brands create and manage 3D versions. The idea is that a company can easily upload visuals and other information about an item into Vertebrae and have a 3D version made for shoppers to access, and potentially buy directly, within Snapchat.
5. Taboola Powers Personalized News Feeds In More Than 80 Countries (MediaPost)
Taboola, an American public advertising company, announced its News product that is similar to Apple News or others that can integrate into the mobile carrier's offering or be pre-loaded on phones from OEMs like Samsung, or devices of partners that make software for mobile devices. News is now live in more than 80 countries worldwide.
6. YouTube Acquired Indian Social Commerce Startup Simsim (TechCrunch)
YouTube acquires Simsim, an Indian social commerce business. The specifics of the transaction were not disclosed, but people familiar with the situation told TechCrunch that Simsim was valued at around $70 million. Simsim, which is two years old, has raised around $17 million and was recently valued at $50.1 million.
7. Toyota Pulls Olympics TV Ads In Japan Over Covid-19 (NYT)
In the wake of opposition from the majority Japanese public in holding the Olympics Games — set to begin on Friday, Toyota, the country's most influential companies, had decided against running Olympics-themed television ads in Japan. The ads will be shown in other markets and it has already begun in the US.