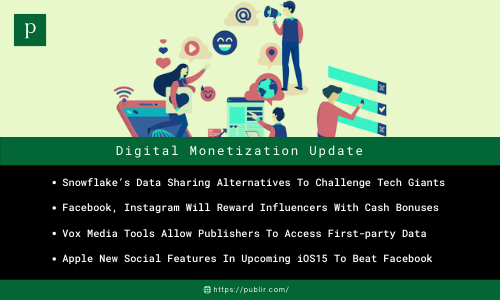 1. Snowflake's Data Sharing Alternatives To Challenge Tech Giants (BusinessInsider)
Snowflake, a $74 billion worth cloud computing and Database Company, is rolling out a data-sharing marketplace this week as an alternative to Google and Facebook. Snowflake is also launching a developer platform and a marketing and support program to help companies compete with the walled gardens of Facebook, Amazon, and Google.
2. Facebook, Instagram Will Reward Influencers With Cash Bonuses (Engadget)
Instagram is working on new tools to help its platform creators make more money. With the new scheme influencers might earn more "for hitting certain milestones". The benefits on Facebook are supplied through "Stars Challenges", which pays creators for their achievement of streaming targets and other predetermined objectives.
3. Vox Media Tools Allow Publishers To Access First-party Data (AdExchanger)
Vox Media announced a new suite of tools for Concert for publishers to use its first-party data across a wide network of sites. The new products address brand safety, targeting and optimization. It also includes a performance tool for brands to optimize campaigns, based on metrics like product sales, video views, or app downloads.
4. Apple's New Social Features In Upcoming iOS15 To Beat Facebook (CNBC)
Apple revealed several new social features for iPhones and iPads with the launch of iOS 15 this fall. This will allow iPhone users to hold FaceTime video calls with Android and Windows users. A new feature called SharePlay will allow users to hold a FaceTime call, watch a streaming movie, listen to music, and share the screen with their contacts.
5. Subscription-Backed Streaming Dominates In US (Digiday)
Subscription based streaming video viewing dominates the ad-backed streaming services in the US, according to a poll by the Accounting and Consulting company PwC on 1,000 US adults. They are spending 62% of the time watching subscription-based services, while only 32% of the time was spent on ad-supported services in 2020.
6. Cryptocurrency Firm BlockFi To Raise Funding At $5B Valuation (Reuters)
4 years old Cryptocurrency startup BlockFi is in late-stage talks with new and existing investors to raise funding at a valuation of about $5 billion. Managing more than $15 billion in assets, BlockFi completed a $350 million Series D funding round in March 2021 that gave it a valuation of $3 billion.
7. Websites Back Online After Glitch By Fastly Takes Them Down (Reuters)
On Tuesday, a large hour-long outage related to US cloud business Fastly Inc. was struck by thousands of governmental, news, and social media websites throughout the world. The online pages returned after a few minutes to around an hour of interruptions.