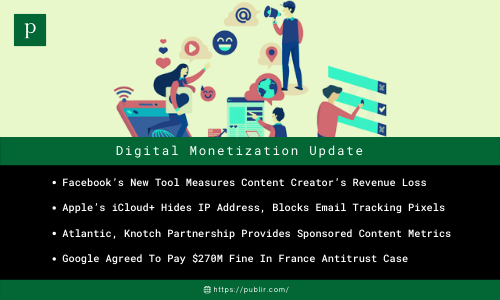 1. Facebook's New Tool Measures Content Creator's Revenue Loss (TheVerge)
Facebook announced the launch of a new tool for mobile influencers and content creators to estimate taxes on their earnings and measure how companies take a cut of their revenue on the platform. Facebook will also keep paid online events, fan subscriptions, badges, and upcoming independent news products free for creators until 2023.
2. Apple's iCloud+ Hides IP Address, Blocks Email Tracking Pixels (9To5Mac)
Apple unveiled a new iCloud+ service at its WWDC conference today with three new features. While 'Private Relay' hides users' IP addresses from getting tracked, 'Hide My Email' allows users to hide email from services for increased privacy in Safari and other services. It also has unlimited HomeKit Secure Video cameras.
3. Atlantic, Knotch Partnership Provides Sponsored Content Metrics (MediaPost)
The Atlantic is partnering with Knotch, a content intelligence platform, to help advertisers measure the performance of sponsored content, the first publisher to do so. Clients of the magazine's creative studio Atlantic Re: think will gain access to benchmarks, outcomes, and other data to help them gauge audience impact.
4. Google Agreed To Pay $270M Fine In France Antitrust Case (WSJ)
Google agreed to pay French regulators a fine of nearly $270 million to settle one of the first antitrust cases globally that alleged the tech giant for unfairly promoting its own services in online advertising. Google has also committed to making it easier for other publishers to make use of data and online ad tools.
5. YouTube To Launch Shorts In UK, Canada, And Latin America (TechCrunch)
YouTube announced the launch of Shorts, a TikTok rival that allows users to sample sounds from any content uploaded to YouTube in the UK, Canada, and a number of Latin American countries. The YouTube sampling tool will then roll out to other Shorts markets including the US in the coming weeks.
6. Pluto TV Ad Revenue Expected To Cross $1B In Q4 2021 (HollywoodReporter)
CEO Bob Bakish told an investor that ViacomCBS anticipates the Pluto TV advertising program in 2022 to generate over $1 billion in income. He also reported that in the fourth quarter of 2021, Pluto TV is now moving toward passing the $1 billion objectives in a whole year, adding that this figure is likely to "comfortably" exceed the number for 2022.
7. Walmart Launches Economy Streaming Devices (MediaPost)
Walmart offers a line of economy-priced streaming devices called, Onn, now available online. The line includes an Android TV UHD device priced at $29.98, with Dolby capabilities and an HDMI cable — which will compete with the Roku Express 4K, a device manufactured for Walmart by Roku and priced at $35, according to NextTV.