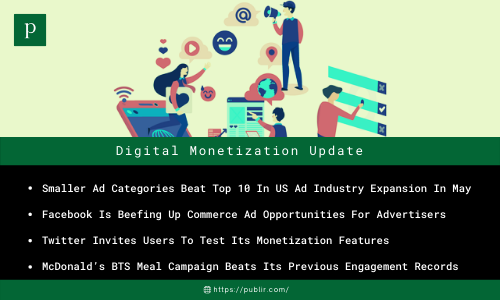 1. Smaller Ad Categories Beat Top 10 In US Ad Industry Expansion In May (MediaPost)
The US ad recovery continued in May – posting a 50.3% increase over May 2020 and smaller ad categories had the biggest recovery, according to SMI's US Ad Market Tracker. While the ad spending rose 41% for top 10 ad categories by May 2021, all other categories were up 69.3%, indicating a complete ad industry recovery in the US.
2. Facebook Is Beefing Up Commerce Ad Opportunities For Advertisers (AdAge)
Facebook advertisers will have more shopping tools according to its CEO Mark Zuckerberg on Tuesday. They can now target shopping preferences and augmented-reality ads for consumers to virtually test goods before clicking "buy". New Shop's ad product helps "provide a personalized ads experience based on people's individual shopping preferences".
3. Twitter Invites Users To Test Its Monetization Features (TheVerge)
Twitter is giving a chance to its users to test the Ticketed Spaces and Super Follows feature. Initially the test groups will keep 97% of the money made by the features after the charge for in-app purchases. If a user makes a total of $50,000 on both platforms, Twitter will boost its share from 3% to 20%.
4. McDonald's BTS Meal Campaign Beats Its Previous Engagement Records (AdWeek)
McDonald's social media promotion on the BTS meal was the brand's top content ever in terms of engagement. The initial announcement on Twitter has garnered more than 600,000 likes and more than 250,000 retweets and quote tweets, and follow-up tweets. The TV commercial for the meal attracted more than 3.3 million liked video views on YouTube so far.
5. YouTube's Big Win In EU Over Copyright Violation Issues (CNBC)
The European Court of Justice ruled that YouTube and other online platforms should not be held liable for copyright-infringing uploads in some cases. They are held liable if they are aware copyrighted content is available illegally and refrain from "expeditiously deleting it", the ECJ said. Social media platforms for long have been facing this issue.
6. Twitter To Integrate Mobile DSP With MoPub For App Developers (AdExchanger)
Twitter is integrating the CrossInstall mobile-only DSP it acquired last year with MoPub's ad exchange platform in a push to woo more performance-based marketers. CrossInstall came along with its own bidder and proprietary creative ad formats. The MoPub exchange sees 2.1 trillion ad requests per quarter and supports 56,000 mobile apps.
7. San Francisco Tech Startup Primer Raises $110M (Reuters)
Primer, a San Francisco startup which offers a natural language processing platform for US national security agencies, stated that its current round of financing raises $110 million. It also announced the platform's partnership with database analytics firm Palantir Technologies Inc. Primer will be offered on the Azure Cloud of Microsoft Corporation.