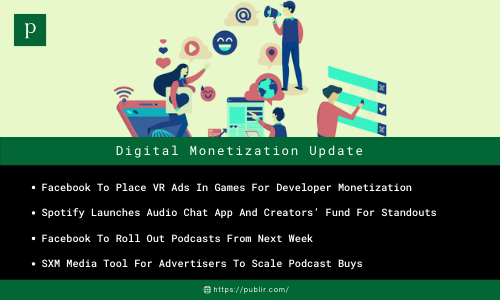 1. Facebook To Place VR Ads In Games For Developer Monetization (AdAge)
Facebook announced its plans to place ads in virtual reality games for the first time on Wednesday. Facebook demonstrated how this new format would look to players wearing the VR goggles, like virtual billboards. These ads would run in a limited testing phase, in a select group of games to help game developers make money from their creations.
2. Spotify Launches Audio Chat App And Creators' Fund For Standouts (Variety)
Spotify launched a Clubhouse rival called Greenroom, an audio chat app, now available on iOS and Android in more than 135 markets. The new service is meant to give musicians and content creators a way to connect with their audience via live audio. Spotify also announced plans for a creator fund that would pay Greenroom standouts for their work.
3. Facebook To Roll Out Podcasts From Next Week (TheVerge)
Next week, on 22 June, Facebook will ultimately add a function that lets listeners create snippets of their favorite shows. Facebook plans on the launching of its Podcast products where hosts can link the RSS feed of their program to it. The news feed postings for all released episodes will go on automatically.
4. SXM Media Tool For Advertisers To Scale Podcast Buys (AdExchanger)
Podcast discovery is quite challenging for advertisers as it is a mass reach vehicle. To help advertisers scale and find brand-safety and appropriate content, SXM Media is testing a speech-to-text tool called PodScribe that automatically transcribes and categorizes podcast episodes.
5. CNN To Sell NFTs Of Its Historic News Coverage (HollywoodReporter)
The WarnerMedia-owned cable news channel is branching into the burgeoning NFT space with a new offering it is calling the "Vault by CNN". Beginning in late June, the company will mint NFTs on the Flow blockchain of memorable moments from CNN's 41-year history. It will then sell them to the public as digital collectibles.
6. Scripps Launched Statewide OTT News Network For Florida (MediaPost)
E.W. Scripps has launched Florida 24 Network, a statewide news network on OTT for viewers in all of the state's local markets. The coverage will focus on issues of importance to Floridians, including politics, tourism, wildlife, beaches, lifestyle, and agriculture, with frequent weather updates.
7. Amazon Deflects Responsibility On Fake Reviews (TechCrunch)
Amazon admits that there is a fake review issue, but tries to shift the blame on others in a news article that details the issue. The firm pretends as if it is finally setting its foot down, but no further attempts or new regulations are planned after several years of allegations. The online retail giant made huge money with fake reviews for years.