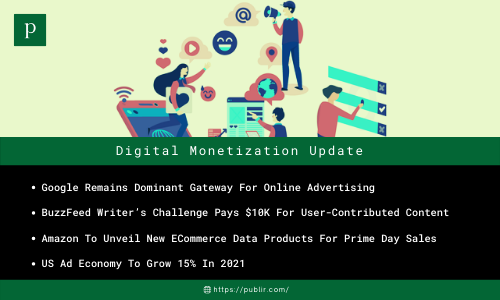 1. Google Remains Dominant Gateway For Online Advertising (AdExchanger)
Google is the dominant gateway for online advertising, though publishers are testing and adding other SSPs more than ever, according to the recent Advertiser Perceptions survey of the SSP market. The survey among 151 publishing execs, each of whom represents a site with at least three million unique monthly visitors and sells inventory using an SSP.
2. BuzzFeed Writers' Challenge Pays $10K For User-Contributed Content (Variety)
BuzzFeed for the first time is paying fans for the content they contribute to the website, offering as much as $10,000 for quizzes, listicles, and more as part of a new summer program. The company is launching an initiative called the Summer Writers' Challenge, which will pay cash to contributors for an eight-week period from June 15 to August 15.
3. Amazon To Unveil New ECommerce Data Products For Prime Day Sales (AdAge)
Amazon Prime Day, which will run on June 21-22 is expected to generate $843.15 billion in sales this year, a 6.1% increase. Amazon is taking advantage of major changes in digital advertising by building new eCommerce data products that do not rely on Google or Apple, which have been restricting marketer's data access through web browsers and phones.
4. US Ad Economy To Grow 15% In 2021 (MediaPost)
IPG Mediabrands Magna forecasting unit has more than doubled its outlook for the US ad economy's growth from its last update in March. The new forecast predicts the US Ad Economy to grow 15.1% in 2021 – up from 6.4% in its March update, and up from just 4.1% when it issued its initial 2021 ad outlook in December 2020.
5. Sophi Is The Best AI Startup For User Data Automation (Digiday)
The Globe and Mail garnered 270,000 subscribers that generate 70% subscription revenue through Sophi, a homegrown AI startup. It uses natural language processing and machine learning to assess the likelihood of a particular user getting converted to subscriptions. Sophi bagged two INMA awards for Best Data use for automation/personalization.
6. Google Makes Workspace And Chat Available To All (TheVerge)
Google is officially making its Workspace suite of apps available to all users with a Google account instead of limiting it to folks who use apps through their employers. Nearly 3 billion users with Google accounts now have access to the company's new versions of Gmail, Docs, and Chat.
7. Double-Digit CPM Increases For Disney In Upfront Ad Negotiations (AdWeek)
Disney's ad sales team has wrapped up its upfront negotiations with double-digit CPM increases, a huge win for the network. 40% of its sales this year are going to be from in streaming and digital, and Disney was the third network giant to finalize its upfront bargaining process, following the CW and NBCUniversal, indicating rampant advertiser demand.