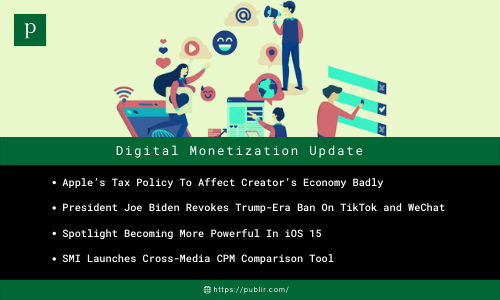 1. Apple's Tax Policy To Affect Creator's Economy Badly (TheVerge)
Fanhouse, a creator monetization platform questions Apple's tax policy to deduct 30% on payments made through its app store, as this is likely to impact the creator's economy drastically. Apple for the first time announced that creator-made content and experiences are allowed in apps — so long as they're properly moderated and monetized for Apple.
2. President Joe Biden Revokes Trump-Era Ban On TikTok and WeChat (AdAge)
President Joe Biden is revoking Trump-era bans on the Chinese-owned apps TikTok and WeChat on Wednesday, and instead will review software applications from foreign adversaries that could pose a risk to Americans' sensitive data, senior administration officials said. This is an act meant to evaluate the apps and block those that pose a security risk.
3. Spotlight Becoming More Powerful In iOS 15 (TechCrunch)
Apples' built-in search capability called Spotlight will become more useful with the future release of iOS 15 for mobile Apple devices. New Spotlight edition is being turned into a Google alternative to various major inquiries, including web pictures and actors, music, television, and movie information.
4. SMI Launches Cross-Media CPM Comparison Tool (MediaPost)
Standard Media Index is launching an "effective" cost-per-thousand viewer (CPM) cross-media comparison data platform. Based on its national media agency billing data, the media data/analytics company offers "Pricing Intelligence Suite" showing the comparison of advertising CPMs for linear and digital media
5. US Digital Live Sports Subscription Revenue To Grow In 2021 (eMarketer)
Viewership of digital live sports content in the US is expected to reach 57.5 million this year and 90.7 million by 2025 from digital platforms, including virtual multichannel video programming distributors and streaming services like Amazon Prime Video. Both digital subscription revenues and sports-specific streaming platforms will grow substantially.
6. WarnerMedia Joins Comscore's Addressable TV Measurement Trial (AdWeek)
WarnerMedia is the first media company to participate in Comscore's national addressable TV-programmer measurement trials, which allows publishers to execute and measure their national linear addressable inventory across multiple MVPD and connected TV providers for the first time. This will allow WarnerMedia to expand its addressable capabilities.
7. Affle Acquires Jampp To Expand To Android And iPhone Markets (AdExchanger)
Affle, a mobile marketing company, with a presence in India and Singapore has acquired mobile DSP Jampp that has a presence in Latin America and North America. This attains significance at a time when the mobile advertising industry is undergoing massive privacy-related platform changes. The acquisition strengthens Affle's hold in Android and iPhone markets.