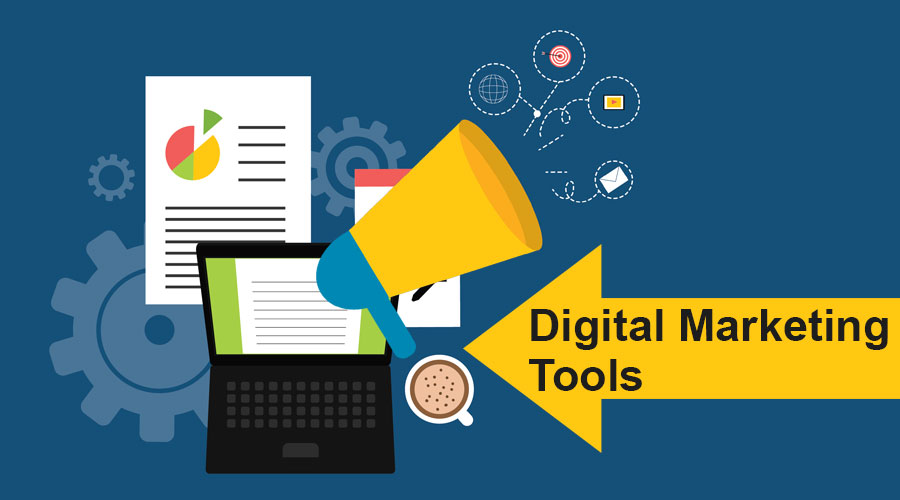 Marketing has always been about making the right connections with the right people at the right moment. That means you need to find your audience where they already spend their time: online. So, here comes digital marketing, which refers to any form of marketing that takes place online.
Marketing using online platforms is becoming the preferred marketing method to promote your products and services in the technology-driven world of today. Hence, the present digital environment demands our knowledge of various digital marketing tools to promote our companies and services in the right way.
Have you ever thought about improving your business on the digital platform but found out that you have limited knowledge about digital marketing tools? It's not easy to find out the best tools because there are so many options available. Choosing the wrong one may affect your business and changing tools is inconvenient and cumbersome.
Why do we need Digital Marketing Tools?
No two companies are the same, so it's important to do your research so you can choose the most appropriate tool for the way you do business. Thousands of tools are available to organizations and their digital marketers. And there's a lot to consider when evaluating the tools you'll use, including ease of use, budget, performance, depth of delivery, reach, recommendations, and others.
Social networking may be the most common digital outlet for digital marketing strategy, but that doesn't mean it's the most effective. You need to choose the right approach for your own needs–and the tools you need to carry out that strategy. And then you'll want to measure those results to ensure you're on the right path.
Top Digital Marketing Tools in 2021
Let's look at some of the most valuable digital marketing tools for businesses today, based on the type of services they support. The tools mentioned below will give you a heads-up on what the winning teams are using.
Data & Analytics
Google Analytics

For any digital marketer who seeks to scale his company, Google Analytics is a must. This free tool shows you all the relevant website output statistics, including where your website traffic is coming from, what they're doing on your website, what pages they love, and more.
Pros
Google Analytics can measure traffic from various multimedia formats such as blogs, smartphone apps, posters, or anything that is connected to the internet.
You can add a Google Analytics account through the Google Ads account, making your digital ads more effective.
Data can be collected from various networks and databases, such as trade links, market benchmarks, etc.
You can create custom objectives and track e-commerce sites through this tool.
Cons
You must "learn the language" to understand the complexities of Google Analytics, and it can feel complicated.
The right resource is, unfortunately, frequently difficult to find online, and directions for those without an interim analysis experience can be frustrating, time-consuming, or daunting.
Overwhelming feeling with many dashboards, user views, and analytics.
If you experience heavy page traffic may, you may need to switch to a paid version that is quite costly (though most small and growing businesses can do quite a lot with the free version).
Pricing
There are two pricing tiers for Google Analytics:
Freemium: Free
Premium: $150,000 per year
Sumo
Sumo, formerly known as SumoMe, provides a range of website enhancement software. You can see if users are reading your blog with its heat maps tool, and check out precisely where people are clicking so you can adjust the call-to-action buttons, news, pictures, etc. for an even better ROI. It's easy to find information through Sumo's content analysis application.
Pros
A large range of software to replace some individual plugins of WordPress.
The intuitive user interface is incredibly convenient.
Setup and monitor info to assist you in obtaining the best results.
The premium version includes the latest software and resources from third parties.
Cons
The visitor's brand contains the free edition.
Premium versions are fairly costly.
Pricing
There are five pricing for Sumo:
Basic: Free
Small: $29 per month
Medium: $59 per month
Large: $119 per month
Sumo: Unlimited (find out more on the Sumo website)
Blog Content and SEO
UberSuggest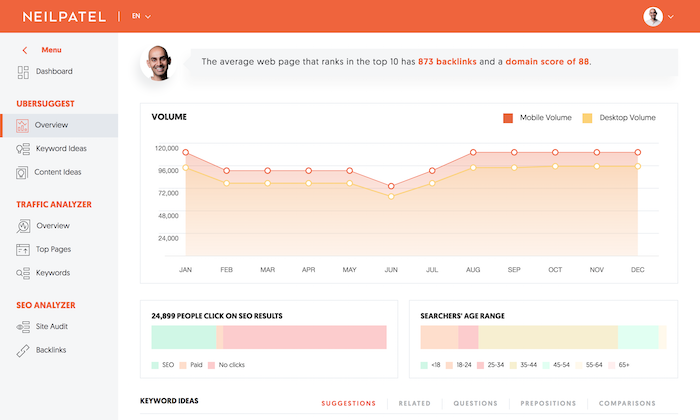 UberSuggest can help you come up with new content topics and keywords with a simple "suggest" option. Simply type in an idea or keyword to see a list of similar outcomes. You can then pick either of the results to broaden the scope, check Google trends, or search Google's keyword.
Pros
A free app having no restrictions like most software with the keyword.
Open to everyone on the Internet.
Offers a lot of new ideas about keywords and content topics.
It uses location-based data that is easy to scan for through SEO.
It gives you fast results and simplified metrics.
Cons
You may find that you're restricted in identifying specific target audiences. Results linked to particular niche markets can be difficult to identify.
There is no dedicated mobile app for Ubersuggest.
Pricing
There are two pricing for Ubersuggest:
Monthly: $2.5 per month
Yearly: $45 per year
Google Keyword Planner
This free tool will help you find keyword and ad ideas, look at the performance of a list of keywords, generate new key phrases by multiplying several keyword lists together and select competitive bids and budgets for your promotions.
Pros
It is easy to use with a simple step-by-step process.
It lets you export data easily and quickly.
It has a unique feature allowing you to multiply two or more keyword lists to generate a list of new, special keyword combinations.
It has hundreds of possible alternatives to the keywords entered by the user.
This tool helps you to apply filters based on area, right down to the city, as well as language.
Cons
Google Keyword Planner would not propose long-term keywords for most types.
This tool does not seem to have a negative keyword list for those that use one.
Pricing
This is a free tool where the only requirement is your Google account or Gmail account credentials.
SEMrush
SEMrush comes with a slew of digital marketing resources that will assist all paying search experts and SEOs in tracking and improving their search rankings. One of the most useful features of SEMrush is the ability to watch your rivals. You will use the tools to pull backlinks from your competitors, monitor their ranking fluctuations, and do a complete comparative analysis.
Pros
It will show you how your website is doing in the search engine results with your chosen keywords.
It even gives you details about your competitors' websites. You can take advantage of the information by applying it to your own website.
You can fully schedule, organize, and launch PPC campaigns with SEMrush at your disposal.
It gives you all the information you need about each keyword in your niche. This covers the term's search rate, patterns, and ad copy.
Cons
Its backlink and keyword index are not the best in the market.
Its PPC keyword research tool is not user-friendly.
Most of the information present is in industry jargon rather than in plain language.
SEMRush's recommendations can give you a false sense of confidence and precision if you don't have a professional marketer to translate your results.
Pricing
There are three pricing for SEMrush:
Pro: $99.95 per month
Guru: $199.95 per month
Business: $399.95 per month
Email Automation
ActiveCampaign
ActiveCampaign is a comprehensive marketing tool that allows you to communicate with your subscribers and customers seamlessly and automatically. You can set up subscription forms and send email newsletters and automated email sequences to stay in front of your audience regularly–right in their inboxes. Some pricing tiers offer a full customer relationship management system, landing pages, lead scoring, and more.
Pros
Integration with over 800 other tools you may already be using
Over 500 automation recipes so you can literally get your automation going in minutes
It's incredibly easy to upgrade or downgrade your services to meet your current needs
Predictive sending is available for some tiers, so you can send your emails when your audience is in their inbox–rather than in the middle of the night
Cons
New users have found it to be difficult to navigate
There's no free option
The price can get expensive if you have a large list
Pricing
Lite: $9 a month, paid yearly, for 500 contacts
Plus: $49 a month, paid yearly, for 500 contacts
Professional: $129 a month, paid yearly, for 500 contacts
Enterprise: $229 a month, paid yearly, for 500 contacts
HubSpot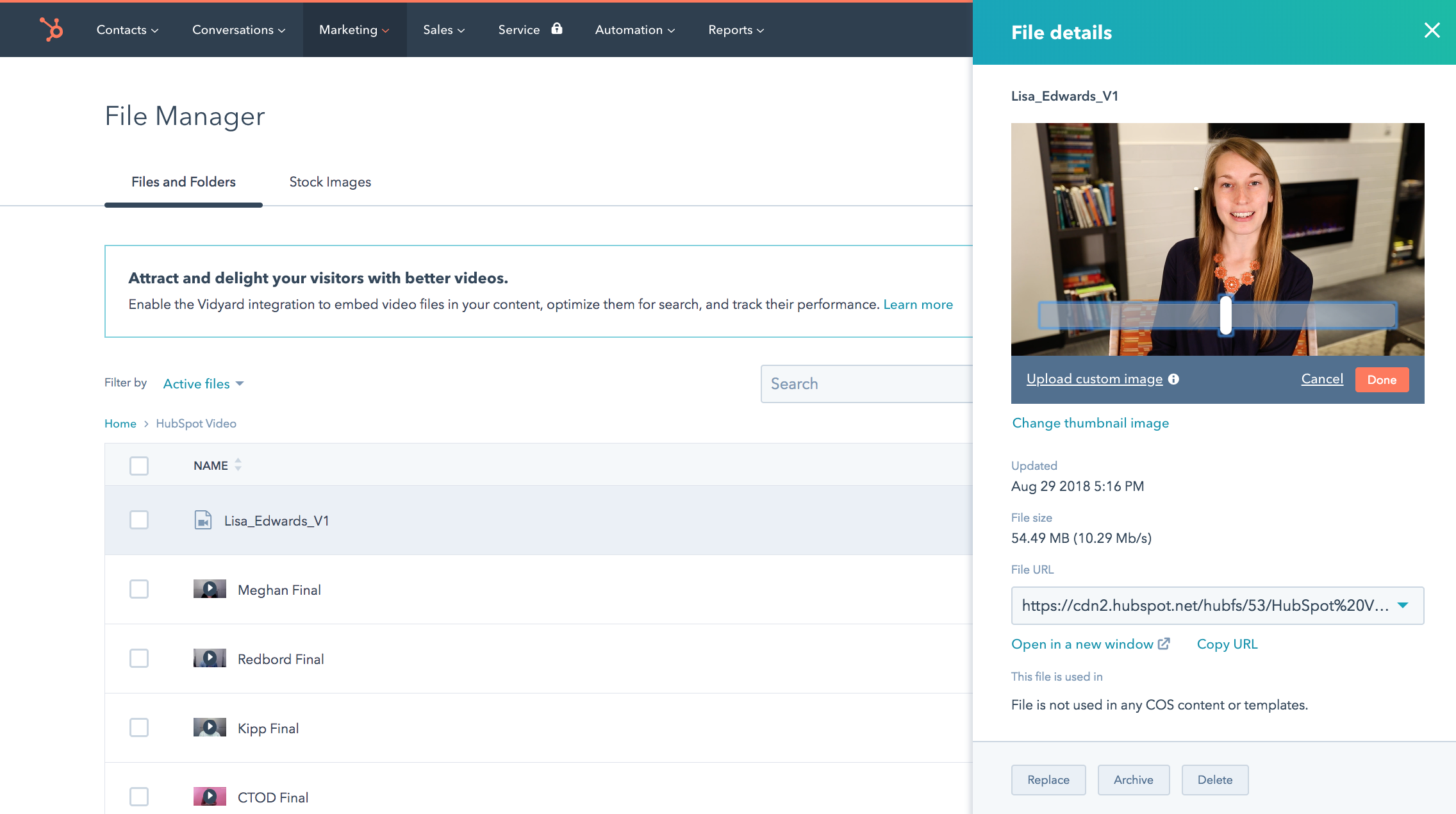 HubSpot, a well-known provider of CRM and inbound marketing tools, recently introduced an email marketing service. HubSpot Email Marketing is simple to use, has high deliverability, and is fully compatible with all other HubSpot goods, including the free-forever CRM and hundreds of other common marketing resources.
Pros
HubSpot offers multi-blog hosting, which can all be handled from a single location.
The HubSpot CMS has a WordPress "blog importer." This platform makes it easy to convert your WordPress blog to HubSpot.
There is an SEO checklist when you build a blog using HubSpot's in-line editor. This checklist outlines what needs to be streamlined in order for the blog to score as high as possible.
The blog comments dashboard allows advertisers more leverage of their comments by allowing them to be filtered and moderated before they are uploaded.
Cons
You cannot update your blog using the staging tool; instead, you must replace the blog templates in your settings.
While HubSpot allows you to convert content into another language, this option is only available for limited website pages and landing pages.
The tags will be applied to all blogs. This is fine if you only have one blog in a single language, but if you have two, three, or even four blogs, the tags would not translate well.
Pricing
HubSpot has four pricings:
Free
Starter: $45 per month
Professional: $800 per month
Enterprise: $3,200 per month
Social Media Marketing
Hootsuite
Hootsuite is used by many social media marketing agencies to plan and analyze social media behavior and results across various platforms–and it works great for organizations that are managing their own social media too. Marketing teams can quickly produce and schedule quality social media content to attract their target audiences. Users can respond to comments right in the tool, research new trends, and watch social conversations and brand mentions.
Pros
It helps in monitoring multiple social media streams all in one place.
You can schedule posts weeks in advance, so you can set it and forget it.
It has a dashboard for social analytics that provides customized insights.
It has a one-of-a-kind app directory with over 100 applications, including YouTube, Salesforce, Google Drive, and SoundCloud.
Cons
Given the amount of interaction taking place within any one tab, seeing too many social networks and accounts shown in the interface can be overwhelming.
It's not as intuitive and simple as other social media marketing tools.
Pricing
There are four pricing for Hootsuite:
Professional: $29 per month
Team: $129 per month
Business: $599 per month
Enterprise: Custom pricing according to services
Sprout Social
Sprout Social is another social media scheduling tool that allows you to schedule posts well in advance. It offers analytics that inform you about your content distribution rates, level of interest per message, use, and other considerations so you can figure out how often you should share.
Pros
The dashboard is well-organized, with a menu of six different items that will assist you with any current social media campaign that you might be undertaking.
Sprout Social allows you to track posts from all of your social media pages in one convenient location.
The Listening feature shows you audience trends in a unique format.
It is simple and easy to publish posts on a regular basis with this tool.
Cons
Sprout Social's analytics don't track the same way the social media platforms track, making it difficult to rely solely on its reports.
In the scheduling tool, links don't always format well.
It has a limited number of social media networks including Twitter, Facebook, Google+, and LinkedIn.
Pricing
It has three pricing:
Standard: $99 per month
Professional: $149 per month
Advanced: $249 per month
Visual Design
Klipfolio
Klipfolio is a fantastic platform for data visualization and automation. It offers dashboards to help consumers monitor the success of their marketing strategies. Klipfolio connects to a wide variety of data sources through integrated APIs – and if there isn't an API for a data source, it's simple to create one within the platform. It also has a useful feature that allows you to send data as an attachment via email.
Pros
It integrates with numerous data sources and has great documentation.
Dashboards with shared/permalink URLs are ideal for allowing private access without needing a password.
Klipfolio strikes a good balance between ease of use and efficient data crunching and visualization capabilities.
You will have complete control over who can access which data with the help of its team permissions.
It has a responsive support staff to resolve the issues immediately.
Cons
Klipfolio is a true dashboard solution for displaying key performance indicators (KPIs). It is not for you if you need a monitoring solution to investigate and drill further into datasets.
Setting up a new client for a dashboard can be a time-consuming task.
For people who are new to Excel, SQL, and database design, there is a slightly steep learning curve.
Pricing
Klipfolio has the following pricing plans:
Free Trial
Starter: $29 per month
Publish: $49 per month
Grow: $99 per month
Team: $199 per month
Landing Pages
LeadPages
LeadPages makes it easy to build mobile-friendly landing pages, offer lead magnets, gather email addresses, and link your landing page to your email marketing program. Leadpages is one of the most competent landing page builders on the market, allowing you to quickly build a professional-looking landing page that's easy to update to find the perfect formula for conversions.
Pros
It is easy to create landing pages by using a basic drag and drop builder.
Using the same tool, you can even create popups and caution bars.
Facilitation is provided at no cost. Leadpages will ensure that the position landing page loads quickly and switches over more effectively.
Cons
It can be difficult to switch widgets around and position them exactly where you like them while customizing them.
You'll need to upgrade to a higher plan to get all the features you might need.
Standard models are not editable. You are unable to add new content or rearrange existing content.
Pricing
After a 14-days free trial of the tool, Leadpages offers three pricing plans divided into two categories, i.e., monthly and annually:
Monthly:-
Standard: $37 per month
Pro: $79 per month
Advanced: $321 per month
Annually:-
Standard: $300 per year ($25 per month)
Pro: $576 per year ($48 per month)
Advanced: $2388 per year ($199 per month)
Content Curation
Feedly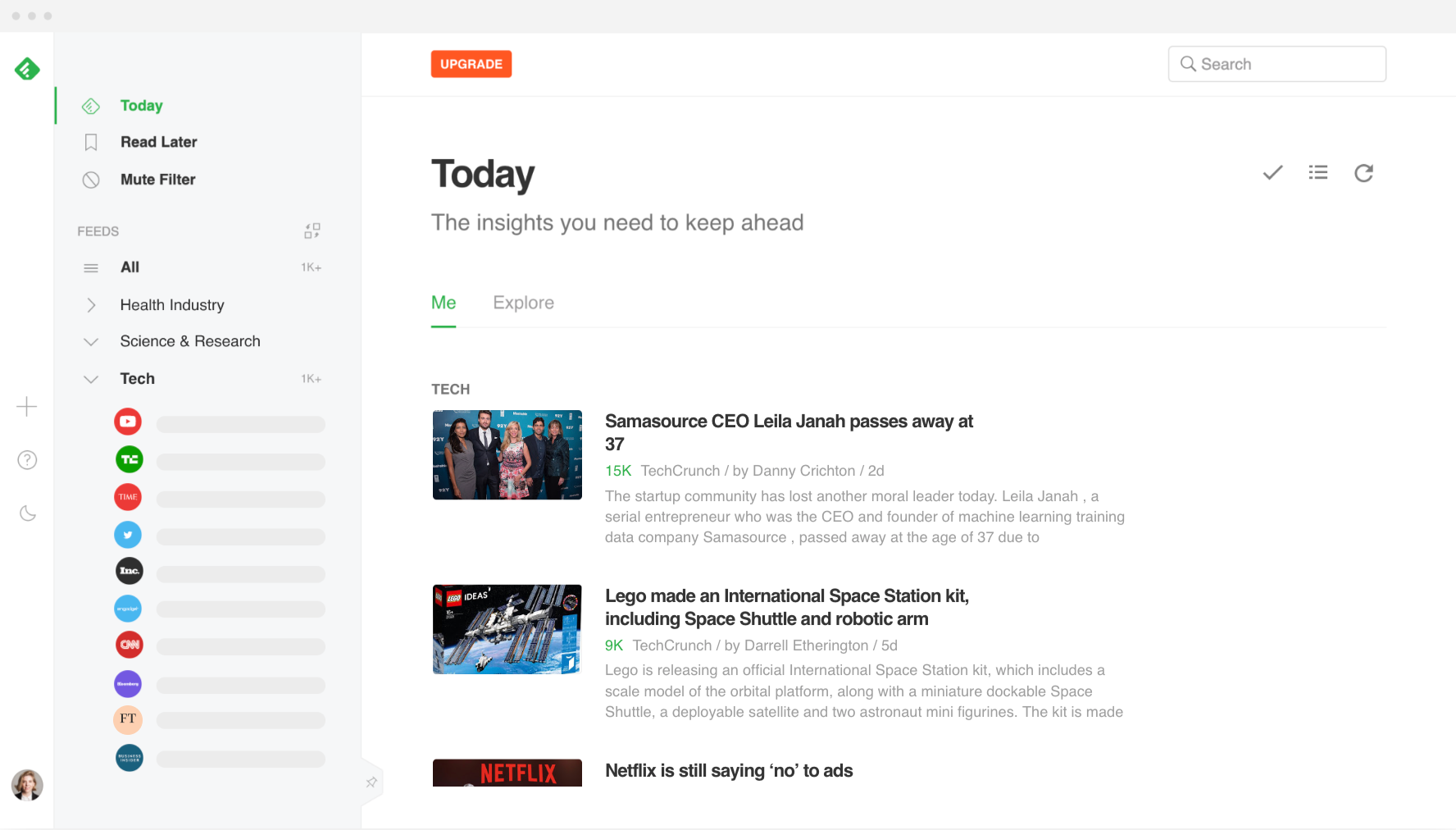 Feedly helps you to collect content from all over the web (not just RSS feeds) and organize it into a management dashboard. One of Feedly's many features is the ability to browse for websites, podcasts, and even keyword search results, then follow these news outlets, which will appear in Feedly any time new content is written. Essentially it becomes your "read later" list based on your preferences.
Pros
Blogs can be categorized into folders.
Your sources can be divided into various "feeds."
You can easily customize the layout as per your requirement with lots of options.
When you're in full articles mode, you can scroll down and it'll mark the post as read for you. It's also simple to mark the article as "keep unread."
Cons
If you have a lot of interests, your feed can quickly get cluttered.
Email updates aren't a free service so you'll have to upgrade if you want your updates delivered to your inbox.
Many features are only available to paying users.
Pricing
All prices are based on annual billing.
Pro – $6 a month
Pro+ – $8.25 a month
Business – $18 a month
Enterprise (check the website)
Project Management
Trello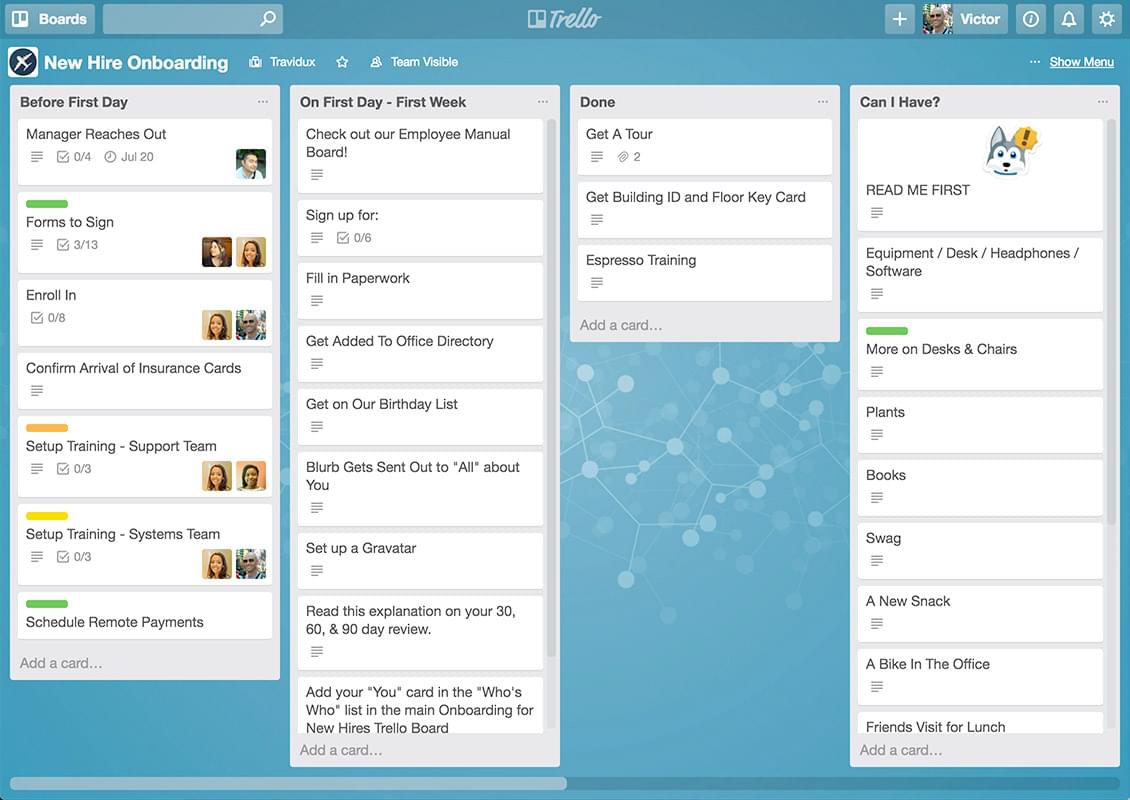 Trello is a wildly popular project management tool that can be quickly managed on your computer or mobile device. You can build new assignments, add collaborators, delegate tasks, and set work deadlines in this easy-to-use framework. Trello is free to use, but it also has premium versions for more features.
Pros
The update system is instantaneous; upgrades will not be delayed if several participants are operating on tasks at the same time.
Trello is very easy to use, and the whole process of creating cards and boards is extremely user-friendly.
It is mobile-friendly and keeps you updated on the go with its push notifications.
Cons
While Trello may carry a large number of attachments, if you are a gold member, you are restricted to 250MB per upload and if you are a basic member, you are only allowed to upload 10MB per upload.
When you've written and saved a comment, you'll only be able to write a new one rather than edit the old one.
Pricing
Trello has three pricing plans:
Free
Business Class: $12.50 per month
Enterprise: $17.59 per month
It's time to bring the right digital marketing solutions for 2021 to work for your company and your customers, now that you know what they are.
The future of business growth is in digital marketing. It's one of the best ways to get in front of new audiences and stay there when done right. And to do it right, you truly need the best tools. Do your research to find the tools that provide the right solutions for your business. And when in doubt, hire a professional to help you make that decision. For more such insightful content, explore our blog here!