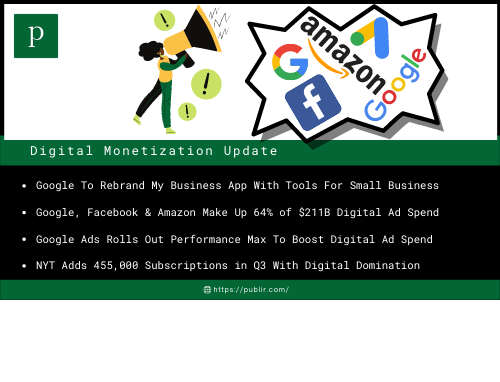 1. Google To Rebrand My Business App With Tools For Small Business (MediaPost)
Google plans to rename "Google My Business" as "Google Business Profile", and encourage small businesses to manage their profile directly on Search and Maps. Google has plans to rebrand the existing "My Business App" as "Business Profile Manager" in 2022 to support big businesses with multiple locations.
2. Google, Facebook & Amazon Make Up 64% of $211B Digital Ad Spend (EMarketer)
The US digital ad spend will reach $211 billion in 2021 according to the predictions of Insider Intelligence. Google, Facebook, and Amazon will make up 64% of the entire US digital ad spending in 2021, up 1% from the previous year. Strong performance of major digital ad companies and high ad prices has contributed to this growth.
3. Google Ads Rolls Out Performance Max To Boost Digital Ad Spend (AdWeek)
Google Ads announced an ad unit called Performance Max that lets media buyer's book inventory across a range of Google properties, including YouTube, Search, Discover, Gmail, and Maps as part of a single campaign. This will help advertisers bolster their incremental reach. Google Ads offer this as complementary to keyword-based Search campaigns.
4. NYT Adds 455,000 Subscriptions in Q3 With Digital Domination (NYT)
The New York Times declared adding 455,000 new digital subscriptions in the third quarter. While 320,000 signed for The Times's journalism, Games, Cooking, and Wirecutter, a product review site that offered subscriptions from September, added the rest. Times owns 8.4 million total subscriptions now and 7.6 million are digital.
5. Facebook To Rollout Creator's Feature Without A Revenue Cut (TheVerge)
Facebook to roll out a feature that allows creators to share custom web links directing their fans to pay them for subscriptions, using its native payments system. If a fan signs up through this link rather than Apple's in-app subscription, the creator will retain the entire money minus taxes. This is to beat Apple's 30% cut on creator's revenue.
6. Advertising Dominates Consumers' US Audio Spend In 2021 (MediaPost)
With podcast ad spending projected to surge 32% this year, advertising will be the fastest-growing source of audio media revenue, outpacing the increase in direct consumer spending by over 14.4%, according to the 2021 PQ Media's annual US Audio Media Forecast report. Direct consumer spending will be 59% of the $44.02 billion audio subscriptions.
7. HyphaMetrics Alternative Tool To Nielson's TV Viewing Metrics (AdExchager)
HyphaMetrics, a measurement startup, is working on an alternative mechanism to measure TV viewers' metrics. It is currently working to scale to 5,000 homes and roughly 15,000 devices. According to its CEO Joanna Drews, the recent wave of interest in cross-media measurement approaches has inspired them to work on this project.
8. ViacomCBS Offers Free Paramount+ For A Year To T-Mobile Customers (TheWrap)
ViacomCBS has 47 million paid global subscribers, thanks to its streaming platform Paramount+ and Showtime OTT in Q3. ViacomCBC aims to add subscribers by offering free "Paramount+ Essential" for one year to T-Mobil and Sprint's postpaid and home internet plan consumers from November 9. This offer is also valid for Paramount+ subscribers.