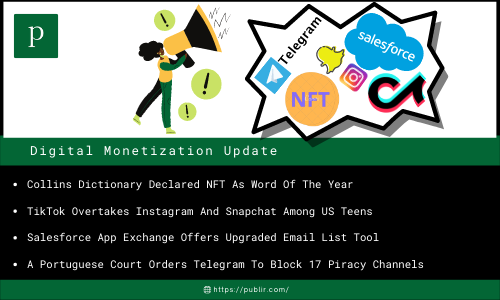 1. Collins Dictionary Declared NFT As Word Of The Year (AdAge)
In celebration of the intersection of the worlds of money, technology, and art in what became known as "non-fungible tokens," the Collins Dictionary named NFT as its word of the year for 2021. NFTs have grown in popularity this year, thanks to collectors, speculators, and celebrity endorsers generating interest—and funding.
2. TikTok Overtakes Instagram And Snapchat Among US Teens (TCP)
According to a new study, teens aged 12 to 17 are now using TikTok more than Instagram or Snapchat. The study found a 13-point rise in weekly TikTok usage from 50% in 2020 to 63% in 2021, up from 50% in 2020. While Instagram's weekly usage has dropped 4 points from 61% to 57%, Snapchat's weekly usage has remained constant at 54%.
3. Salesforce App Exchange Offers Upgraded Email List Tool (MediaPost)
Using ListFit, an updated tool by AudiencePoint on Salesforce App Exchange, email marketers can segment their lists based on customer engagement across hundreds of brands. Paul Shriner, co-founder of AudiencePoint, said it allows marketers to see a subscriber's "preferences and patterns in an entirely new light they simply can't get on their own".
4. A Portuguese Court Orders Telegram To Block 17 Piracy Channels (TF)
A Portuguese court ordered Telegram to block access to more than a dozen piracy-related channels with millions of users. The court acknowledges that the measure is not ideal, but decides that it is preferable than taking no action at all. Telegram is one of the most popular chat apps, with over a quarter billion active users.
5. Reddit Plans To Shut Down Dubsmash App (Engadget)
Reddit will cease Dubsmash by February 22nd, 2022. The news comes less than a year after Reddit paid an unknown price for the TikTok-like video platform in December 2020. Dubsmash will no longer be accessible for download on the App Store or Google Play after the 22nd, nor will the app function after that date.
6. The Pandemic Spurred Hybrid Work And Shopping Experiences (AdExchanger)
Many of the buying habits that have emerged after the pandemic during the last several months have solidified and appear here to stay. The majority of consumers (56%) say they expect to purchase largely or solely online this holiday season, and more than three-quarters say they will use in-store pickup services as much or more than they did last year.
7. TikTok Building On Surging Video App's Entertainment Strategy (Variety)
TikTok, which now has over 1 billion monthly users worldwide, is not only a social networking app now; it has also become a top entertainment destination for the new generation. TikTok, one of the fastest-growing internet apps ever, is competing for watching time with YouTube, Instagram, and Snapchat thanks to its tailored video stream.
8. WhatsApp Gets Built-In Sticker Maker On Web Version (TheVerge)
The online version of WhatsApp has been upgraded to include a built-in custom Sticker Maker that allows you to transform regular photographs from your computer into stickers that can be transferred over the messaging service. The feature will be available in the desktop apps and on WhatsApp's web version within the next week.