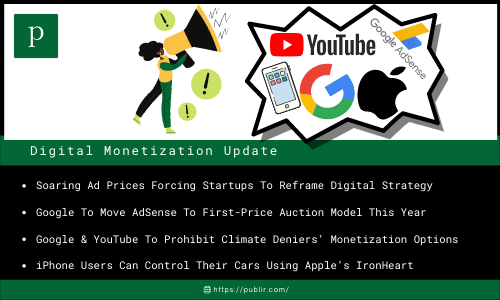 1. Soaring Ad Prices Forcing Startups To Reframe Digital Strategy (Axios)
According to performance marketing firm Tinuiti, the cost to advertise on Facebook is 33% higher than it was in Q3 2019, as measured by CPM; Instagram CPM is up 23% over the same period, and Google's CPC rate is up 23%. This is pushing the cost of digital dollars up and harder for startups to target and find their first customer.
2. Google To Move AdSense To First-Price Auction Model This Year (MediaPost)
Google announced that it will move AdSense for content, video, and games to a first-price auction model from a second-price auction model in 2021. The first-price auction model will reflect the winner's bid and the highest bidder wins and in the second-price auction model, the buyer pays $0.01 more than the second-highest bid for an ad impression.
3. Google & YouTube To Prohibit Climate Deniers' Monetization Options (Axios)
Google and YouTube have made a policy decision, prohibiting climate change deniers a chance to make money out of content and ads. In an announcement on Tuesday, the companies made it clear that starting next month, they do not allow publishers, creators, and advertisers to publish content that contradicts existing climate change norms.
4. iPhone Users Can Control Their Cars Using Apple's IronHeart (Bloomberg)
Tens and millions of motorists are already using Apple's CarPlay interface for music management, directions, and making phone calls. Apple is developing a technology that would provide a climate-control system, speedometer, radio, and seats through an initiative known as "IronHeart", which is still in its early stages.
5. Nielsen Reorganizes Streaming Metrics To Launch Omnichannel Rating (AdWeek)
Nielsen is planning to combine three of its streaming measurement solutions – digital ads, content, and platforms – into one, to launch an omnichannel rating service next year. In an announcement, Nielsen also said that it has plans to rebrand two of its streaming measurement products.
6. Electronic Arts To Rename FIFA Video Games (AdAge)
Electronic Arts (EA), a video game company that has been producing videos for the past 20 years for Fédération Internationale de Football Association (FIFA), have sold hundreds of millions of copies worldwide. For next year, EA is renaming its global EA Sports football games, and as a result, would be reviewing its naming rights agreement with FIFA.
7. YouTube Rewind Closed Forever, Starting This Year (TheVerge)
YouTube on Thursday confirmed that it is permanently closing 'YouTube Rewind', starting this year. YouTube Rewind is the company's annual year-end round-up of trends, creators, memes, and the most popular videos on the site. As the feature attracted controversies in 2019, it has decided to replace it with some other feature, not yet disclosed.