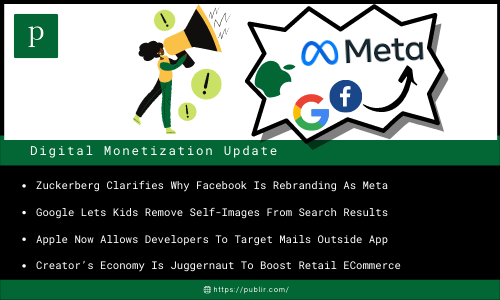 1. Zuckerberg Clarifies Why Facebook Is Rebranding As Meta (TheVerge)

Facebook Connect AR/VR and metaverse unit Reality Labs was renamed as "Meta" and CEO Zuckerberg has become chairman of this parent company to Facebook. Zuckerberg said that he has no intention to detach the AR/VR unit from the rest of the business and he will continue as the CEO. Renaming reflects the company's vision to expand into the metaverse.

2. Google Lets Kids Remove Self-Images From Search Results (MediaPost)

Google introduced a tool to give minors more control of self-images that appear in search results. It allows the requests of those under 18, their parents, or guardians to remove the minor's images from the search results. Such images will not appear in the Images tab or as thumbnails in any feature in Google Search, but not from the internet.

3. Apple Now Allows Developers To Target Mails Outside App (MediaPost)

Apple will now allow app developers selling in its App Store to send emails to their customers. Apple has prohibited developers from using information obtained within the app to target individual users outside of the app to use purchasing methods other than in-app purchases earlier. Apple made changes to the terms and conditions to this extent now.

4. Creator's Economy Is Juggernaut To Boost Retail ECommerce (TheInformation)

YouTube Chief Business Officer Robert Kyncl opined that the booming creator's economy acts as a "juggernaut" to boost retail eCommerce business. In an interview during The Information's Creator Economy Summit on Thursday, he said that creators are growth engines to this booming economy as they are enjoying the back-up of a trusted audience.

5. TikTok Testing A Tipping Feature For Specific Creators (TheVerge)

TikTok is experimenting with a new tool that allows TikTok users to tip some creators directly on their profiles. According to TikTok creator Jera Bean, this in-app feature lets creators collect tips without any cuts. Creators with at least 100,000 followers, meeting age requirements, and agreeing to TikTok's tips terms are eligible for this.

6. Twitter Spaces' Recording Feature For iOS Begins Today (TechCrunch)

Starting Friday, a new feature that allows hosts to record their live audio sessions in Twitter Spaces will be available for replay. Twitter is rolling out its first iteration of the feature to a limited number of Twitter Spaces hosts on iOS and all listeners of iOS and Android worldwide. Users of the beta version will get it first.

7. Twitter's Algorithm Amplifies Conservative Politicians: NYU Research (WP)

According to a New York University research, Twitter's algorithms are aligned to elevate conservative politicians. The study found that Twitter considers all the controversial and negative replies that conservative politicians receive as "engagement" and ranks them high. They are not Retweets, which alone can be considered as engagement.

8. TikTok Threatening Survival Of Long-Format Video Creators (TheInformation)

YouTube's longtime video creator Casey Neistat expressed concern over TikTok posing a threat to long-format video creators with its short-video formats, at The Information's Creator Economy Summit. These comments underline the fierce tug of war between the platforms to grab user attention across social media and streaming platforms.