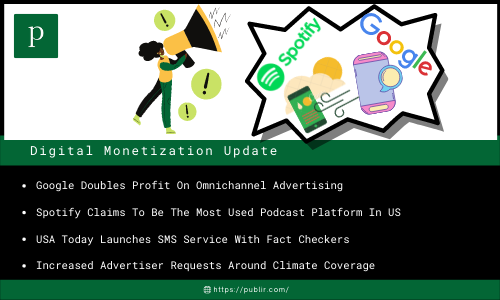 1. Google Doubles Profit On Omnichannel Advertising (MediaPost)

Google said more advertisers are including in-store sales alongside eCommerce goals to achieve omnichannel growth. Omnichannel strategies remain core to Google's shopping strategy for merchants and brands. As a result, revenue increased by 41% to $65.12 billion. Advertising revenues totaled to $53.13 billion, up 43% from the previous year.

2. Spotify Claims To Be The Most Used Podcast Platform In US (TechCrunch)

Spotify announced during its Q3 2021 earnings conference, quoting Edison Research and internal sources that it has emerged as the most popular podcast platform in the US. Given that the US is the world's largest podcast market, it is a significant milestone reflecting Spotify's enormous investment in podcasts over the last several years.

3. USA Today Launches SMS Service With Fact Checkers (USAToday)

USA TODAY has launched a new service for digital subscribers: an SMS text chat service that connects users with an expert fact-checking team of veteran reporters. The objective is to give maximum clarification during trending news or misinformation events, as well as to hold weekly "office hours" to delve further into the week's most important issues.

4. Increased Advertiser Requests Around Climate Coverage (DigiDay)

While publishers prioritizing climate coverage, advertisers also wish to pitch their campaigns around issues related to climate changes. Publishers, including BBC, Bloomberg, FT, Group Nine Media and the Economist have increased ad revenue substantially. Bloomberg Green increased 144% from January 2020 to January 2021.

5. Snap Crosses 100M MAUs In India, Partners With Sony And Zee TV (TechCrunch)

Snap has reached 100 million monthly active users in India, a significant milestone in the international market. To make further inroads in the world's second-largest internet market, it is inking deals with a variety of companies, including Android smartphone suppliers, entertainment TV channels Sony and Zee TV, and eCommerce giant Flipkart.

6. Instagram Begins Rolling Out New Link Stickers To All Users (Engadget)

Over the past few months, Instagram has steadily expanded access to the feature of adding a sticker with a link to an Instagram Story and it now claims to be rolling out the option to almost everyone. Earlier only verified accounts or those with at least 10,000 followers could use this feature, but now everyone will be able to use it.

7. Firefox Is Testing 'Global Privacy Control' Tool (MediaPost)

The "Global Privacy Control" opt-out mechanism was privately tested by Mozilla's Firefox browser a few weeks ago, and the company hopes to push it out more widely in the coming months. The privacy tool intends to allow consumers to opt-out of the selling of their data on a global level rather than opting out on a site-by-site basis.

8. Australia Plans On Offering Google Alternative Search Engines (Reuters)

An Australian regulator said it wants Google to place a "choice screen" on cell phones so users may choose another search engine if they want, a move aimed at undermining Alphabet's search market domination. They also want to restrict Google's ability to pay Apple to have its search engine installed as the default choice on the company's smartphones.