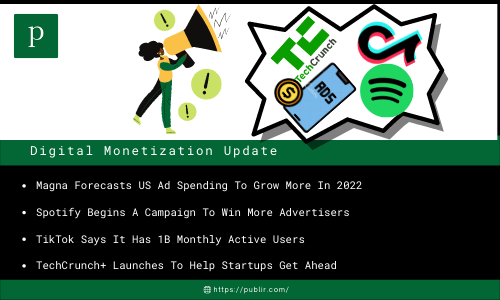 1. Magna Forecasts US Ad Spending To Grow More In 2022 (MediaPost)
Media investment and analytics firm Magna predicted a 15% rise in advertising expenditure in the US this year due to the economic rebound following the pandemic, reaching a record $259 million. After a record rise of 32% in the first half of 2021 that came in stronger-than-expected across the board, it has raised that estimate to $278 billion.
2. Spotify Begins A Campaign To Win More Advertisers (WSJ)
Spotify has launched its first worldwide brand campaign to attract advertisers as the audio streaming giant seeks to increase advertising revenue. To attract small and medium-sized businesses outside the large brands it has historically concentrated on, the firm is renaming its advertising business as Spotify Advertising, from Spotify for Brands.
3. TikTok Says It Has 1B Monthly Active Users (Variety)
TikTok has crossed a major milestone by having more than 1 billion monthly active users. TikTok's enormous popularity, particularly among teenagers and young adults, has sparked similar features on YouTube (YouTube Shorts) and Instagram (Instagram Reels). TikTok is now positioned as an entertainment app rather than a social platform.
4. TechCrunch+ Launches To Help Startups Get Ahead (TechCrunch)
TechCrunch is taking initiatives to bring changes in the startup ecosystem by renaming its membership product as TechCrunch+, which provides advice and analysis for startups through deep-dive interviews with founders and investors. It will get the latest trends and opportunities with market analysis and investor surveys through newsletters.
5. Axios Local Plans To Expand Into 11 New Market By Q3 2022 (DigiDay)
Axios is launching a countrywide local news-focused newsletters with ambitious aspirations to be in 25 cities by 2022. It now has about 400,000 subscribers to its 14 newsletters, with open rates averaging around 35%. This year, Axios Local is expected to earn between $4 million and $5 million.
6. Last-Click Attribution To Phase Out In Google Ads (AdExchanger)
Google has announced a change to its ad attribution model to give advertisers more accurate, precise, and privacy-centric measurement. Google Ads will use machine learning to evaluate data from all stages of the conversion process. It is a shift from the "last-click" attribution model and furthers the tech giant's interest in consumer data privacy.
7. Facebook Pauses Work On Instagram Kids (AdAge)
Faced with criticism from advocates and lawmakers, Facebook said it is suspending plans to develop an Instagram service aimed at tweens. The company's move comes about two weeks after The Wall Street Journal reported that Facebook's internal research showed Instagram is harmful to a "sizable percentage" of young users, especially teen girls.