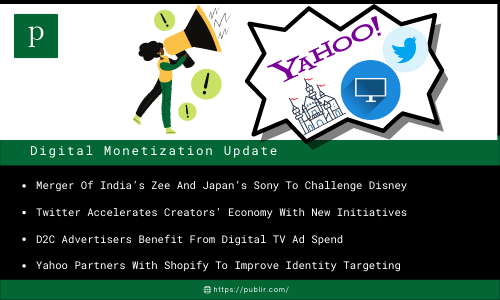 1. Merger Of India's Zee And Japan's Sony To Challenge Disney (Reuters)

India's Zee is merging with Japan's Sony Group Corp creating a television powerhouse challenging the top competitor Disney in a key growth market. The Sony-Zee partnership has the potential to become India's biggest player with a market share of 27%, surpassing Disney's Star India, which has a market share of 24%.

2. Twitter Accelerates Creators' Economy With New Initiatives (AdAge)

Twitter introduced new initiatives, including support for tipping in bitcoin, NFT authentication, and plans for other experiments providing more context about a conversation to those just joining in. It will also launch its own creator fund in a few weeks to provide audio creators with access to financial, technical, and marketing support.

3. D2C Advertisers Benefit From Digital TV Ad Spend (MediaPost)

According to the VAB, a trade association for television advertising, from the first quarter of 2017 to the first quarter of 2021, 30 D2C companies across 20 different marketing categories saw a 63% average rise in unique visitors per month, a 135% increase in total visits, and an 89% increase in total digital engagement minutes.

4. Yahoo Partners With Shopify To Improve Identity Targeting (MediaPost)

Yahoo has partnered with Shopify to assist its sellers in dealing with the loss of third-party cookies. Shopify sellers will be able to target ads using Yahoo Connect ID, the company's alternative to cookie tracking. The collaboration will give businesses access to premium publisher sites' users and aid in targeting without web browser cookies.

5. Google TV Launches In-App Remote, Expands To 14 Countries (9To5Google)

Google TV has officially launched an in-app remote for Android, allowing users to control Chromecast with Google TV right from their phone without having to bother with a physical remote. The Google TV app is also expanding to 14 new countries in coming weeks including UK, Canada, Germany, India, Japan, France, Australia, Mexico, and Spain.

6. Opera Ads To Launch A Self-Serve Platform Powered By DanAds (AdExchanger)

Opera Ad Manager is launching a self-service advertising platform, powered by DanAds that allows users to create, manage, and report on digital advertising campaigns all in one location. According to Statcounter, the browser accounts for 2% of the browser market share. The Opera browser and news apps reach over 300 million active users each month.

7. Facebook Reveals What Posts Will Be Hidden In Its News Feed (TheVerge)

Facebook recently published its Content Distribution Guidelines which sheds some light on the types of posts that the platform hides from other users. The guidelines contain a list of nearly 30 different types of posts that the platform chooses to demote on users' News feeds, like clickbait and posts by repeat policy offenders.