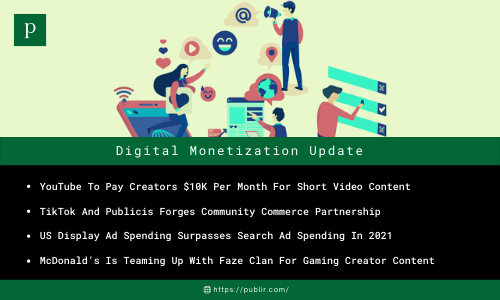 1. YouTube To Pay Creators $10K Per Month For Short Video Content (TheVerge)

YouTube revealed its plan to pay creators up to $10,000 per month for making popular videos for YouTube Shorts. The company pledges $100 million throughout the next year, with the first payments going out this month. Payments will depend on the number of viewers watching Shorts each month, and the location of viewers.

2. TikTok And Publicis Forges Community Commerce Partnership (AdAge)

TikTok continues its outreach to the agency world with a new shopping-focused partnership ahead of the holidays. TikTok will host an incubator program to teach Publicis brands about shopping on the app through a new program called "community commerce," which is TikTok's name for the online shopping within its app.

3. US Display Ad Spending Surpasses Search Ad Spending In 2021 (EMarketer)

Display ads that have been less of a priority than search ads for B2B marketers, took up a greater share of US ad spending. In 2020, B2B search spending grew 27.3%. This year it will grow almost 20% to $5.36 billion. Display ad spending is growing even faster, up nearly 40% in 2020 and posed to grow by 32.6% in 2021 to hit $5.09 billion.

4. McDonald's Is Teaming Up With Faze Clan For Gaming Creator Content (AdAge)

McDonald's is gearing up for its largest endeavor in gaming content by reaching the audiences of some of the internet's hottest gaming creators by partnering with Faze Clan to feature the creators of the gaming organization in various types of content. The intention is to publish content showcasing diversity and inclusion within the gaming industry.

5. WhatsApp Rolls Out Option For Disappearing Photos, Videos (Reuters)

Facebook-owned messaging service, WhatsApp has announced the launch of disappearing photos and videos on its platform starting this week, as it looks to better compete with Snap Inc's photo messaging app Snapchat. Facebook said the feature, called 'View Once', will let photos and videos disappear from the chat after they have been seen.

6. Discord Lets You Customize Your User Profile On Its Apps (TechCrunch)

Discord added the ability for users to personalize their profiles to its iOS and Android applications. The new option may be found under "user profile" in Discord's user settings menu. There, you may define yourself in 190 characters or less; and include links and emoticons.

7. Steep Rise In CPM And CPC Prices Worldwide (MediaPost)

Cost to connect with consumers is rising in Q2 of 2021 than it did in the past. Search click-through rates remained high compared with 2020 and paid search spending outpaced in Q2 2020 by 60%. The average CPC for paid search ads rose 17% quarter-over-quarter, and 34% YoY, marking a return to average prices from before the pandemic.