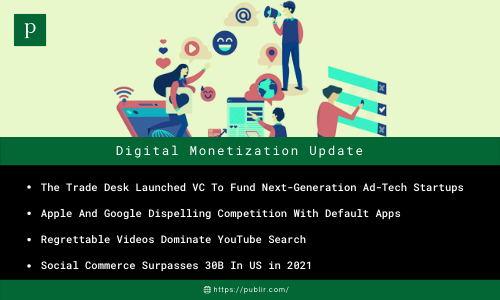 1. The Trade Desk Launched VC To Fund Next-Generation Ad-Tech Startups (AdAge)
The Trade Desk introduced its latest DSP dashboard, Solimar, and announced its venture capital arm, TD7 to finance the next-generation ad tech companies. The first startup investment is on Chalice Custom Algorithms. Solimar consolidates TTD's data marketplace for targeting and measurement into a single interface, with data onboarding and in-built identity resolution.
2. Apple And Google Dispelling Competition With Default Apps (TheVerge)
A Comscore study shows that the majority of apps people use on their phones in the US come preinstalled by either Apple or Google. Facebook sponsored this first-of-its-kind report. Preinstalled services dominate basic services like weather, photos, and will be difficult for other apps to compete in. The study is significant in the wake of antitrust suits on tech giants.
3. Regrettable Videos Dominate YouTube Search (MediaPost)
YouTube's video recommendation algorithm often violates the platform's own content policies, according to a 10-month long, crowdsourced investigation released by Mozilla. More than 70% of videos marked 'regrettable' do surface despite such categorization. Misinformation dominates, followed by violent content, hate speech, and deceptive practices.
4. Social Commerce Surpasses 30B In US in 2021 (eMarketer)
Social commerce sales in the US are picking up and in 2021, US social commerce sales will rise by 35.8% to $36.62 billion. That's only a slight deceleration in growth from social commerce's blowout in 2020 when sales surged by 38.9%, due to the pandemic-driven boom in eCommerce and increased social media consumption.
5. TikTok Lets Users Apply For Jobs With Video Resumes (Engadget)
TikTok has launched a pilot program for "Resumes," allowing users in the US to apply for entry, associate, and senior-level positions via videos posted on the app. Expanding into job recruitment, TikTok has unveiled a list of roughly three dozen companies, including the likes of Shopify, Target, Chipotle, NASCAR, and the Detroit Pistons.
6. Startups Competing To Fill Creator's Wallets (TheInformation)
The Information, a media company that focuses on technology news has made a database on creator's economy, traced 52 startups, making significant efforts to boost revenue of creators like musicians and artists. While five music Startups rose $350 million in total funding, 15 startups that offer link-in-bio services and financial software raised $305 million for creators.
7. Visa Says Crypto-Linked Card Spending Tops $1B (Reuters)
Visa announced Wednesday that in the first half of this year its users spent more than 1 billion dollars on their crypto-linked cards. The credit card company has also stated that its partnership is to make it easy for clients to convert and use digital money on millions of merchants throughout the world. They have 50 cryptocurrency platforms.