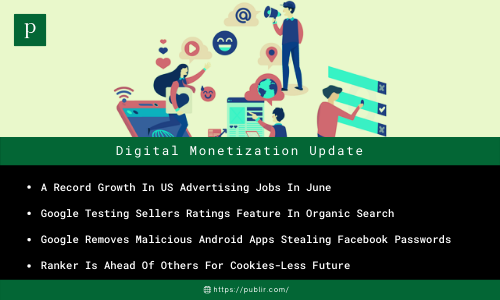 1. A Record Growth In US Advertising Jobs In June (AdAge)

Employment in advertising, public relations, and related services surged in June, showing the biggest-ever one-month increase. The robust ad jobs growth came as US employment report from the Bureau of Labor Statistics.

2. Google Testing Sellers Ratings Feature In Organic Search (MediaPost)

Google is testing an organic search feature that serves business seller ratings. Google uses this feature for paid ads. Seller ratings on Shopping may be collected from Google Customer Reviews, aggregated performance metrics from Google-led shopping research, shopping reviews of store domain from third-party sources, and users of Google Search.

3. Google Removes Malicious Android Apps Stealing Facebook Passwords (Engadget)

Google has given the boot to nine Android apps downloaded more than 5.8 million times from the company's Play marketplace after researchers said these apps used a sneaky way to steal users' Facebook login credentials. The apps with trojans were downloaded more than 5 million times, meaning they were well known.

4. Ranker Is Ahead Of Others For Cookies-Less Future (AdExchanger)

Ranker attracts 25 million unique visitors per month and collected first-party data for 11 years through online polls about movies, celebrities, sports, and music. Ranker uses its first-party data to deliver targeted ads based on the 1 billion votes to date visitors have cast on Ranker.com. It uses algorithms to find correlations to target accurately.

5. Carrefour Promotes Ecological Supermarket Of Future Using Gaming (AdAge)

French grocer Carrefour aims to promote healthy eating through gaming. Players in the game interact with an electric recharging station and trucks running on biomethane. Carrefour partnered with creator Teeqzy with 1.7 million YouTube subscribers and 700,000 Twitch followers to promote healthy eating through players.

6. Riots' Album Let Creators Use Music Without Violating Copyright (TheVerge)

Riot Games, Inc. released an album called Sessions: VI, which is packed with 37 lo-fi tracks from producers like Chromonicci, Junior State, Laxity, and Tennyson. The idea is to offer "stream-safe" music for creators on platforms like YouTube without violating copyright. The album is available to stream now on Spotify, Apple Music, and YouTube.

7. July 4 Ransomware Attack Reportedly By Russian Gang REvil (TheRecord)

In a post on the REvil dark web blog, the gang takes credit for the Kaseya attack, claims it infected more than 1 million systems, and demands $70 million in bitcoin for the decryptor. The massive cyberattack has locked up the IT systems of over 1,000 businesses across the world, according to the US cybersecurity firm Huntress Labs.