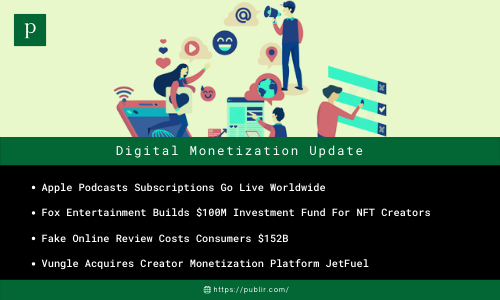 1. Apple Podcasts Subscriptions Go Live Worldwide (MSN)
Apple Podcasts Subscriptions are now live across more than 170 countries and regions. First unveiled this spring, subscriptions allow listeners to unlock additional benefits for their favorite podcasts, including ad-free listening, early access to new episodes, bonus material, exclusives the creator believes will be something their fans will pay for.
2. Fox Entertainment Builds $100M Investment Fund For NFT Creators (Bloomberg)
Fox Corp. announced on Tuesday that it is launching a new fund for digital creators and seeding it with $100 million. It is joining the list of investors and businesses pumping big money into nonfungible tokens, or NFTs, a type of digital file that can be bought and sold around creative works like pictures, music, and videos.
3. Fake Online Review Costs Consumers $152B (MediaPost)
89% of consumers globally check reviews online before making purchases — up from around 82% eight years ago. A CHEQ study concluded that online reviews influence $3.8 trillion of global eCommerce spend in 2021. Out of $791 billion generated in eCommerce revenue in the US, $28 billion of consumer spending is influenced by fake reviews and $152 globally.
4. Vungle Acquires Creator Monetization Platform JetFuel (AdExchanger)
Mobile marketing company Vungle announced its intent to acquire programmatic influencer marketing platform JetFuel on Tuesday. Advertisers upload their campaigns, guidelines, specs, and assets to JetFuel, and approved creators select the opportunities that make sense for them through The Plug, a self-serve monetization tool for creators to hook up with marketers.
5. Instagram Testing New Affiliate Tool To Boost Influencer Marketing (AdAge)
Instagram announced that it was testing a native affiliate tool along with other new monetization creator features to keep influencers happy and engaged on Instagram. This new tool is expected to transform influencer marketing from a mere brand lifting agent to tracking the growth of this marketing channel for brands.
6. Amazon Blocking Google's New FLoC From Gathering Data (Digiday)
Amazon intends to block Google's controversial cookie tracking and targeting methods. Most of Amazon's properties like Amazon.com, WholeFoods.com, and Zappos.com prohibit Google's tracking system FLoC (Federated Learning of Cohorts) from obtaining valuable data that reflects products that people search on Amazon.
7. Platinum Equity To Buy Textbook Publisher McGraw Hill For 4.5B (WSJ)
Private equity firm Platinum Equity has struck a deal to buy McGraw Hill from Apollo Global Management Inc. APO 0.87%. The deal for the textbook publisher and educational technology Company was announced on Tuesday, and it is valued at about $4.5 billion, including debt.